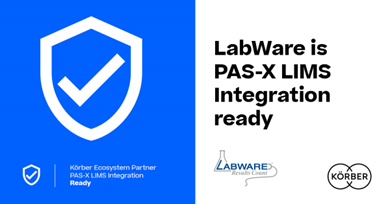 Lüneburg, DE / Delaware, US
LabWare® has achieved the "Ready" level required to join Körber's Ecosystem of partner companies.
With that, the two companies are taking the seamless integration capabilities between LabWare's LIMS (Laboratory Information Management System) and Körber's PAS-X MES (Manufacturing Execution System) to a new level of cooperation.
Körber's collaboration with LabWare marks the next milestone following the launch of Körber's "PAS-X LIMS Integration" program, a new element within the Körber Ecosystem. This program offers customers improved convenience in identifying LIMS suppliers compatible with PAS-X MES. It demonstrates to customers that Körber and its partners can significantly reduce the effort and risk involved in integrating LIMS with Körber's world-leading Manufacturing Execution System PAS-X MES by using a standardized interface.

LabWare, a trusted partner to most of the top 25 global pharmaceutical companies and a worldwide leader in laboratory informatics, brings profound expertise and operational excellence to this relationship. "Our LIMS is used at more than 29,000 laboratories with more than 150,000 daily users and a billion samples tested a year," says Mark Gonzalez, Technical Director at LabWare. As a certified partner, LabWare demonstrates seamless integration capabilities with PAS-X MES. "The successful collaboration between LabWare and Körber has already greatly benefited our shared customers over the years," Gonzalez adds.

The integration of MES and LIMS has emerged as a pivotal component in the digital transformation journey within the pharma and biopharma industry, especially given the laboratory's critical role in the overall production and supply chain processes. Lars Hornung, Senior Principal Alliances & Technology Partners Software, Körber Business Area Pharma, elaborates: "For instance, as part of the manufacturing process, PAS-X MES triggers a sample request to the LIMS, and the LIMS communicates detailed sample data back to the MES, enabling efficient label printing for each sample. After sample collection, PAS-X MES sends a sample confirmation to LIMS, including additional information for Quality Control (QC) purposes. The laboratory conducts the tests, and LIMS manages the results, which are then transmitted back to MES for further processing. Therefore, seamless integration between these systems is vital to streamlining processes and eliminating human error."

About LabWare Inc.
LabWare is recognized as the global leader of Laboratory Information Management Systems (LIMS) and instrument integration software products. The company's Enterprise Laboratory Platform combines the award-winning LabWare LIMS™ and LabWare ELN™, which enables its clients to optimize compliance, improve quality, increase productivity, and reduce costs. LabWare is a full-service informatics provider offering software, professional implementation and validation services, training, and world-class technical support to ensure customers get the maximum value from their LabWare products.
Founded in 1987, the company is headquartered in Wilmington, Delaware, with offices throughout the world to support customer installations in over 125 countries.
About Körber
We are Körber - an international technology group with more than 12,000 employees at over 100 locations worldwide and a common goal: We turn entrepreneurial thinking into customer success and shape the technological change. In the Business Areas Digital, Pharma, Supply Chain, and Technologies, we offer products, solutions and services that inspire. We act fast to customer needs, we execute ideas seamlessly, and with our innovations we create added value for our customers. In doing so, we are increasingly building on ecosystems that solve the challenges of today and tomorrow. Körber AG is the holding company of the Körber Group.

At the Körber Business Area Pharma we are delivering the difference along the pharma value chain with our unique portfolio of integrated solutions. With our software solutions we help drug manufacturers to digitize their pharmaceutical, biotech and cell & gene therapy production. The Werum PAS-X MES Suite is recognized as the world's leading Manufacturing Execution System for pharma, biotech and cell & gene. Our Werum PAS-X Savvy Suite accelerates product commercialization with data analytics and AI solutions and uncovers hidden business value.