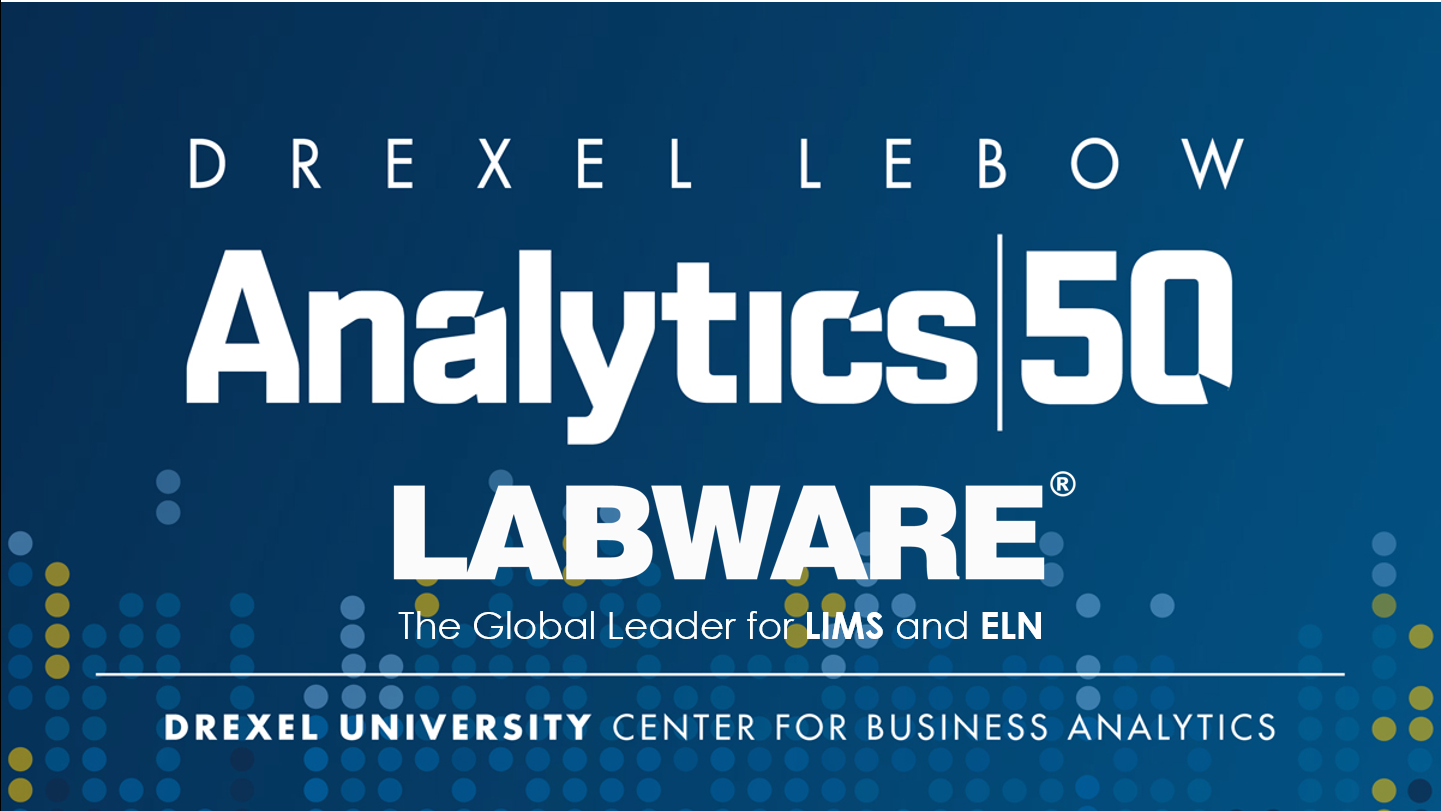 WILMINGTON, Del.-- It was announced last week, LabWare® was selected as an honoree of the 2023 Drexel LeBow Analytics 50 Award. This award recognizes and honors companies that have made a significant data-driven business impact. Past recognized recipients include Pfizer, GSK, Tyson Foods, Starbucks, and Citi, among others.

"We are honored to receive this recognition," said Darren Mahoney, Product Manager of LabWare Analytics. "The reputation this award and university hold makes us proud of our daily work. To be recognized alongside companies like FICO, Pfizer, and the United Way is an honor as well."

Laboratories around the world face challenges in analyzing and making predictions from their data due to various reasons, but that's where LabWare's data analytics solutions come into play. LabWare created the Data Science Engine that enables laboratories to do analytics within the LabWare platform, enabling them to analyze their data efficiently and in new ways that impact decisions.

When the COVID pandemic changed the world, LabWare ensured organizations worldwide continued delivering life-saving diagnostics, therapies, and critical data. Mapping millions of COVID testing outcomes to geometric sampling data and patient demographics, LabWare provided advanced data trending to support the optimal locations of testing resources. LabWare embedded this type of data-driven approach in its informatics platform. Working closely with laboratories in many industries using the power of artificial intelligence, machine learning, and data science, LabWare brings them a competitive advantage by getting the most from their data.

"In today's Modern Lab, there's a huge need to not only acquire data but also understand it and apply it to scientists' and lab manager's tasks without taking them outside their normal work streams," Michael Learner, Managing Director of LabWare North America, said. "That's where LabWare Analytics comes in, to help our customers explore and implement the data
they've acquired. With our Data Science Engine, laboratories can identify patterns, extract insights, and gain a deeper understanding of their data to make informed decisions."

Through client conversations, LabWare has found that having data science and machine learning foundational to their work enables their clients to succeed in the lab and beyond.

About LabWare Inc.
LabWare is recognized as the global leader of Laboratory Information Management Systems (LIMS) and instrument integration software products. The company's Enterprise Laboratory Platform combines the award-winning LabWare LIMS™ and LabWare ELN™, which enables its clients to optimize compliance, improve quality, increase productivity, and reduce costs. LabWare is a full-service informatics provider offering software, professional implementation and validation services, training, and world-class technical support to ensure customers get the maximum value from their LabWare products.
Founded in 1987, the company is headquartered in Wilmington, Delaware, with offices throughout the world to support customer installations in over 125 countries.
About The Drexel LeBow Analytics 50
The Drexel LeBow Analytics 50 is a national recognition of analytics distinction honoring 50 organizations using analytics to solve business challenges. Presented by the Center for Business Analytics at Drexel University's LeBow College of Business, the initiative connects academia and industry, highlights best practices, and applauds data-driven business impact. Honorees are selected by a panel of researchers and practitioners who evaluate nominations based on the complexity of the business challenge, the analytics solution implemented, and the solution's business impact on the organization.