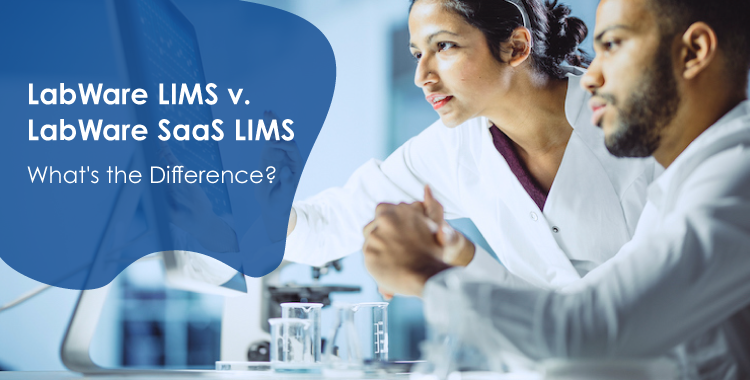 With LabWare SaaS LIMS now available, we're helping LIMS buyers determine if the rapid deployment and rich functionality of LabWare SaaS LIMS will be sufficient or if the customizability of traditional LabWare LIMS will be required to meet quality assurance and quality control testing needs.
Brief History of Lab Automation
For a historically slow-moving industry, the last 15 years have brought enormous technological changes to the scientific laboratory community across the world—not the least of which is lab informatics.
If you've spent your lab management career in large corporations, you may be surprised to learn that there are still labs that are using pen and paper, homegrown spreadsheets, or other manual methods to manage, store and report on their scientific data.
The problem these labs have is that the financial and human resources required to implement custom solutions are preventing many of them from upping their tech game, all while compliance demands have increased the burden on labs to document a trail of custody and other proof points that are absolutely crippling to efficiency when done manually.
Robust lab automation technology that was once only available to the large conglomerates of the world is now available at a fraction of the cost thanks to cloud computing and software as a service subscription pricing and maintenance model.
Cloud Computing and SaaS Impact on Labs
The largest laboratories in the world have the money and resources to invest in the most cutting-edge lab automation software; that fact hasn't changed with the emergence of cloud computing and software-as-a-service models.
Cloud computing and SaaS models make the very best tools in the world accessible for any laboratory analytical testing environment. With cloud-based tools, lab managers don't need an IT department (and maybe even don't need an IT person), don't have to worry about system validation, don't have to go through large upgrade projects, and don't have to spend time maintaining these lab automation systems. Lab managers and their teams can actually focus on their jobs without worrying about their software. Put another way; they can focus on science, not systems!
Quick History of LabWare
For more than 30 years, LabWare has been the worldwide leader in software for automating laboratory operations. Laboratories in diverse industries have modernized their operations and processes, using LabWare LIMS (Laboratory Information Management System) and ELN (Electronic Laboratory Notebook) to electronically document experiments, track and manage samples, perform environmental monitoring, manage stability studies, and more.
Founded by CEO Vance Kershner in 1987, LabWare has offices in 25 countries, employees in more than 50 countries, and customers in 125 countries.
In recent decades, dozens of commercial LIMS applications have hit the market, most offering limited functionality or focused on narrow applications. No lab informatics company has worked across the globe building and deploying solutions for Fortune 500 companies like LabWare.
LabWare was initially built for large testing environments where flexibility, customizability, and power are paramount to successfully selling and deploying into large pharma labs. Deploying self-hosted implementations fully customized to a Labs needs is costly, often taking months and significant resources, followed by ongoing maintenance and validation costs to keep the system up to date.. As new smaller labs sprouted up in pharma hubs around the world, dozens of new LIMS products came on the market to serve these smaller labs. Yet, none of these homegrown or LIMS-lite tools equal the power of LabWare.
Now, we've synthesized all the best practices we've learned from 30 years of working with the largest, most complex lab environments and we've put it to work with LabWare SaaS LIMS, making the world's top LIMS available to small and medium laboratories and testing environments...(and not JUST pharma!)
For smaller pharma labs and contract research organization (CRO) labs, the LabWare SaaS product will immediately meet 80-90 percent of their needs. Since LabWare SaaS is built based on industry standards and best practices, any process adjustments that your lab may need to make during implementation will be adjusting to industry standard ways of working.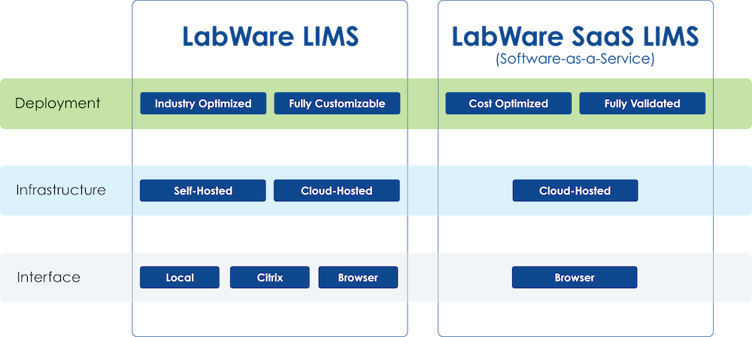 Industry Applications for LabWare LIMS vs. LabWare SaaS LIMS
LabWare LIMS Applications
In LabWare LIMS, all configured behaviors reside in the database in the form of templates, and LabWare has taken the initiative to pre-configure templates to suit specific industry requirements. LabWare's industry templates leverage our team's decades of experience implementing LabWare LIMS and ELN into many different environments and are available through the LabWare consulting services group.
Pre-configured industry templates are available for the following domains:
Each industry template provides a best practices model for automating many of the more complex workflows we routinely encounter when implementing LabWare LIMS. Their use significantly reduces the overall duration and cost of implementation.
LabWare SaaS LIMS Applications
LabWare SaaS LIMS offers two fully validated solutions that cover a broad range of laboratory and commercial use cases across many industries. In short, if your business involves scientific data capture, testing, and analysis, then LabWare may be your best option to ensure efficient throughput, accurate results, data integrity, and compliance.
LabWare QA/QC
LabWare QA/QC provides market-leading functionality and compliance in a subscription-based delivery, enabling labs and testing environments without complex unique requirements to get up and running quickly. The LabWare QA/QC solution, with pre-built and fully compliant workflows and reports, is now available in the following domains:
LabWare GROW
LabWare GROW offers a pre-built analysis library to quickly get CBD/THC testing labs and infused edibles testing labs operational. With compliance inconsistencies across states, LabWare GROW simplifies management testing and also supports ISO/IEC 17025 accreditation!
Understanding the Differences between LabWare LIMS and LabWare SaaS LIMS
What LabWare LIMS is known for?
Flexibility and customizability to accommodate new and unique requirements
Improved transparency to lab work status
Improved test quality and efficiency
Improved data integrity and compliance
What LabWare SaaS LIMS is known for
Pre-configured fully validated solutions
Best practice workflows
Rapid deployment into the laboratory within 30 days.
Compliance with all regulatory requirements.
Affordable implementation and subscription pricing
Comparing LabWare LIMS vs. LabWare SaaS LIMS
| | | |
| --- | --- | --- |
| | LabWare LIMS | LabWare SaaS LIMS |
| Lot Management | ✓ | ✓ |
| Stability Management | ✓ | ✓ |
| Environmental Monitoring | ✓ | ✓ |
| Direct Instrument Interfacing | ✓ | ✓ |
| Self-Hosted Deployment | ✓ | x |
| Cloud-Hosted Deployment | ✓ | ✓ |
| Pre-Built for Rapid Implementation | x | ✓ |
| Custom Implementation | ✓ | x |
| 24/7 Support | ✓ | ✓ |
| SOC-2 certified | x | ✓ |
Which LabWare Option is Right for You?
Determining whether LabWare LIMS or LabWare SaaS LIMS is right for you starts with asking four questions:
When do I need my LIMS to be up and running? Perhaps you failed an audit and need to address data integrity issues immediately, or you are urgently looking to get a LIMS in place to ensure compliance or improve efficiency. LabWare SaaS LIMS with rapid deployment in under 30 days may be right for you if that's the case. If you are strategically shopping for a new LIMS and are willing to invest the months required to customize your perfect solution, consider LabWare LIMS.
Do I want a self-hosted deployment or a cloud-hosted deployment? LabWare LIMS can be deployed self-hosted or in the cloud; LabWare SaaS LIMS is a cloud-hosted deployment only accessible via a web browser.
Do I have a sufficient budget for a custom deployment or should I opt for a cost-optimized deployment? Custom deployment is longer and more costly while a SaaS deployment is cost-optimized, with pre-built solutions that are more affordable, fully validated, and ready for deployment within 30 days.
Are our incumbent workflows or reporting processes set in stone or are we flexible? LabWare LIMS can be customized to your specific workflow or processes. LabWare SaaS LIMS comes with prebuilt workflows and reports that may require adjusting your testing environment.
Other FAQs About LabWare
If we start with the LabWare SaaS LIMS preconfigured solution, could we later grow it into a custom solution?
Yes. LabWare SaaS LIMS can be used as a gateway to a fully customized solution by taking advantage of the technology to be operational in weeks rather than months and, if needed, converting it to a customized LabWare installation specific to a customer's needs, giving new customers the best of both worlds.
Does LabWare SaaS LIMS make us a paperless lab?
Yes. You can modernize and digitize all your laboratory processes with LabWare SaaS LIMS.
Is there a full list of features I can see somewhere?
Here's a summary list of features for LabWare SaaS LIMS >
Here's a summary list of features for LabWare LIMS and ELN >
Does LabWare provide ongoing post-sales support?
LabWare SaaS products are complemented by a dedicated support team, available at all times. Customers communicate with a single point of contact, regardless of whether the issue is related to the infrastructure or the solution. Proactive monitoring is used to detect and resolve problems before they occur.
Does LabWare have an uptime guarantee?
LabWare cloud-hosted LIMS products (including SaaS) include a 99.5% availability guarantee, to ensure continuous access to the system around the clock. Our infrastructure is optimized for the LabWare products to provide the user with a responsive and reliable experience.
Are there instrument integrations?
LabWare LIMS: Yes, it integrates with all your lab instruments.
LabWare SaaS LIMS: At this time, instrument files of various formats (XML, CSV, etc) can be used to import results directly. Any format of the instrument output file can simply be attached to a LabWare test for additional reference.