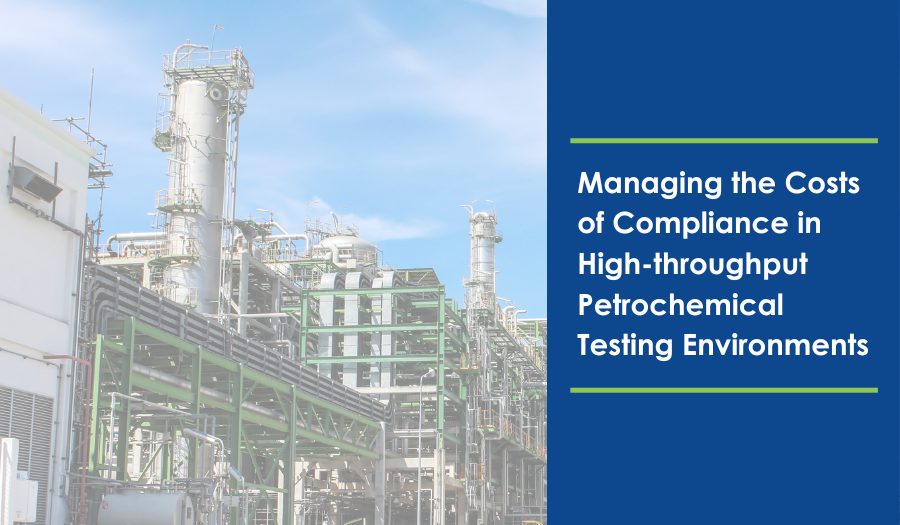 In the pursuit of advancements in petrochemicals, petrochemical testing methods, and efficiency in the industry, it can be challenging to know how to keep costs low while retaining maximum outputs. Lab management software offers new and exciting ways to further petrochemical research while reserving and enhancing funds.
Through a series of careful choices and correctly implemented strategies, petrochemical companies worldwide can leverage advanced software solutions to reach new pinnacles in the field and achieve budget surpluses for future successes.
Gas, oil, and petroleum companies aren't the only ones who can benefit from more accessible , quicker, and cheaper petrochemical testing. Petrochemical research and development can — etymologically — be broken down into its petro and chemical parts:
Industries Affected by Petrochemical Testing
In the petrochemical industry, continuous process testing involves confirmatory tests on points throughout the process to determine whether or not the online readings are compatible with regulations and on track for the final output. In other words, continuous process testing is a way to check the final product before the end result. Ensuring lab processes work well along the way can mean providing proper additives or checking pressure over time.
Petro refers to the geological side of the industry, dealing with rocks and sediment, core analysis, retrieval and analysis of oil and gas, and upstreams, the wells where these materials are gathered.
Chemical refers to the processing and experimentation of the collected resources to be turned into refined materials such as plastics and polymers.
A wide umbrella of industries is affected by petrochemical research and keeping ahead of the costs incurred in the development process ultimately results in more substantial progress.
Choosing the Right LIMS
Many don't know that selecting the correct laboratory information management system (or LIMS) can be whittled down to a few key elements: accuracy, timeliness, and industry knowledge. LabWare is dedicated to providing manufacturers, processors, and all other pioneers of the petrochemical field with the resources needed to give customers worldwide the resources they need.
With a LIMS as sophisticated and precise as LabWare, laboratories can expedite scientific processes thoroughly and safely while still complying with and staying ahead of regulations, thanks to regular monitoring and 24/7 support.
Compliance with New and Advancing Regulations
As time goes on and new developments occur in the world of petrochemicals, the legal elements are bound to evolve in turn. One way companies can cut costs is to anticipate the financial implications of non-compliance and the ever-changing fees of compliance. Here are a few simple aspects of monitoring in keeping with federal and state expectations for petrochemical testing and research parameters:
Ensure that government officials (such as EPA agents) and other employees are onsite to observe processes, equipment, personnel, and other facility operations. These agents should report when national measures are changed, revoked, or upgraded.
Review regulations and keep tabs on summer-grade and winter-grade fuel in their appropriate seasons, as different states have different specifications on what must be done to monitor and process them as efficiently as possible.
Keeping sulfur levels low in crude oil, regardless of origin, can cut costs as sulfur levels are liable to inspection and fines.
Small starts like these can go a long way when optimizing business and, at best, can keep companies and manufacturers out of hot water legally and financially.
Key Regulations and Policies to Keep in Mind
While a general knowledge of the relevant laws that affect your business is essential and a matter of common sense, certain factors need to be kept at the forefront to avoid incurring penalties, fines, and production slowdown:
AFTM 6299 can be considered equivalent to validation in the pharmaceutical industry; this series of statistical studies and checks ensure that laboratory processes produce accurate results. Accurate statistics are vital as they are necessary to ensure that companies remain compliant with regulations.
The EPA labels the petroleum sector under NAICS 324, which details a breakdown of all categories included within the broad scope of petrochemicals as a whole, including areas such as coke ovens, benzene waste management, and cooling towers.
EPA 1099 dictates ASTM methods, and companies must be aware of and in compliance with EPA regulations at all times.
LabWare technology provides simple solutions for keeping track of these policies and more while ensuring that regular business operations are maintained and enhanced.
The Pitfalls of Non-Compliance — How to Avoid Failing EPA Inspections
Proactivity and preparedness are critical to a company's continued success. Without the extensive measures that LabWare's products and services can provide, serious consequences can occur, the prime example being a failure of an EPA audit.
Regular inspections are a necessary part of the petrochemical industry and making sure that operations and equipment are running efficiently and legally save businesses financial headaches.
One way businesses can ensure a passing grade on an EPA inspection is to frequently test water used and discharged in chemical processes for contaminants, otherwise known as wastewater testing. LabWare assists manufacturers and laboratories with the most modern and accurate technology so that simple solutions like these stay simple.
Digitizing Operations to Minimize Taxations
As we travel into the 21st century, it becomes more essential than ever to rely on the power of tech to save costs and increase the ease of labor at all levels of petrochemical testing.
LabWare's automated system software helps petrochemical professionals expedite their processes and ensure maximum accuracy in several ways:
Petrochemicals are all about process controls: monitoring, tracking, reporting, and analyzing data collected from every step of the collection and refinement stages. Digitizing with our software allows companies to improve all aspects of data entry by integrating existing laboratory hardware to smooth workflow.
No one can afford to lose time and money to human error. Automating laboratory processes with LabWare LIMS rids your business of the simple but costly mistakes to which all humans are prone.
Leverage LabWare Advanced LIMS to Improve Operations and Protect Your Bottom Line
Managing a petrochemicals lab with the correct software in place allows you to focus on results and process improvements. Refine your ongoing lab results with solutions from LabWare. To take your business into the future, contact our staff today and experience a work world in the trusting hands of the #1 LIMS in the world.