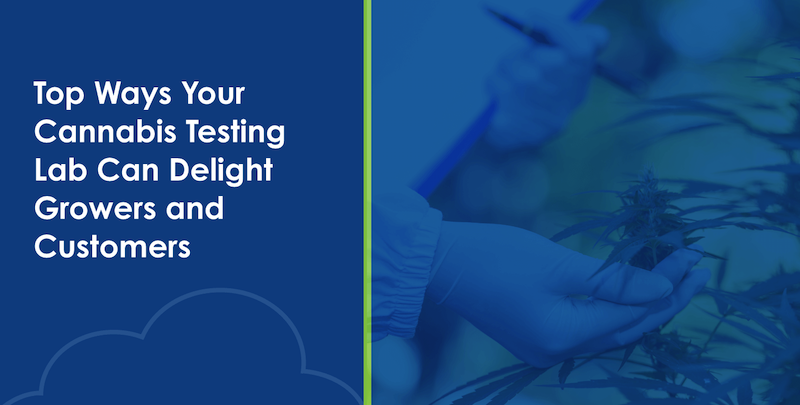 To sell a cannabis product, licensed growers must meet state safety standards and ever-evolving regulatory requirements. Some producers think they can conduct their own testing; however, the impact of failing audits can put them out of business. Therefore, growers and manufacturers of cannabis-related products should partner with a reputable cannabis testing laboratory. Imagine the impact on the grower, the laboratory and the consumer if samples fail to stand up under scrutiny. Growers could be losing millions of dollars in products they cannot sell. Laboratories could be shut down due to unethical or sloppy practices, and consumers could be hurt using contaminated products.
A cannabis testing laboratory needs to maintain a chain of custody for all samples it receives. Because cannabis is a controlled substance, the movement of these samples must be tracked at every stage of the testing process.
How Using a Cannabis LIMS Delights Customers
Every batch of cannabis must be tested for the potency levels of THC and CBD. The most efficient way to track and audit cannabis samples from the time they enter the laboratory is with a Laboratory Information Management System (LIMS).
When a controlled substance like cannabis is received, it must be identified and weighed. A laboratory is required to report how much of the sample is received and used in the testing process. They must also provide evidence of where it was stored and who in the laboratory handled the samples. Samples that have not been analyzed also need to be tracked and need their disposal cataloged.
Imagine the risk to the grower, laboratory and the consumer if anything goes awry due to human error. Paper-based tracking is subject to inaccurate input of data. Excel spreadsheets can be overwritten. Paperwork can be lost, which ultimately means a laboratory has lost control of the process and cannot prove chain of custody, let alone issue a Certificate of Analysis (COA).
Overview of the Testing Process with LabWare Cannabis LIMS
Barcode Generation
When an order is placed, a LIMS automatically generates an RFID barcode. This barcode tracks each sample throughout the entire workflow with the utmost accuracy. This ensures patient safety, and consumers receive a product that is not mislabeled or contaminated.
Workflow compliance begins with a positive ID from the barcode from login to final disposal. Sample and split-sample tracking enable accurate monitoring and reporting of the chain of custody. Growers naturally feel comfortable that the laboratory has immediate control of the testing process.
Workflow Automation
LabWare GROW cannabis LIMS software comes pre-configured to contain best-practice workflows that adhere to Good Laboratory Practice (GLP) and Good Manufacturing Practice (GMP) requirements. Individual state-by-state regulations are preset, requiring no customization for the laboratory. Recognized by auditors, these workflows are compliant with cannabis testing—all the necessary tracking is built into the software from start to finish. This gives the grower confidence that the laboratory using a cannabis LIMS will manage the entire sample lifecycle with minimum human intervention.
Maintenance and Calibration
LabWare GROW is the leading cannabis LIMS provider globally. Their made-for-purpose LIMS enables cannabis testing laboratories to automate orders, manage samples, carry out required tests, and report on cannabis and hemp analysis efficiently.
The maintenance and calibration schedules of laboratory instruments are automatically tracked. LIMS can easily track employee training as required by regulatory bodies. A cannabis LIMS records comprehensive audit logs for all laboratory activities with a timestamp. The date-sensitive data is inaccessible for unauthorized users, keeping records secure and confidential.
Certificate of Analysis
The LabWare GROW cannabis LIMS software delivers a COA along with a complete chain of custody reports. The software reports on instrument calibration, user activity logs, along with an audit history for every test.
Ways Your Cannabis Testing Lab Can Delight Growers and Customers
There's no doubt the integrity of cannabis testing is of concern for growers, laboratories and consumers alike. Regulatory bodies have shut down cannabis testing laboratories for falsifying data and unethical practices.
Advantages of Using LIMS for Growers
Growers invest hundreds of thousands of dollars in research, plant and equipment just to cultivate cannabis for consumption. Once a crop is ready for harvest, speed to market is imperative, getting the testing process underway as quickly as possible.
With LabWare GROW, growers can log into their cannabis LIMS through a client portal and immediately start the order process. The system instantly generates a barcode and gets ready to automate the workflows. The laboratory starts printing the labels and getting their containers ready for testing while waiting for the samples to arrive.
As soon as the sample arrives, it's reflected in the LIMS order management tool. The software provides the ability to do bulk receipts and immediately registers the samples. It records the quantity of cannabis received, which is stored in the LIMS inventory manager. The sample gets assigned instantly to the technician responsible for preparation for testing.
A cannabis LIMS works synergistically from the technician to the pre-analyst. The samples move to the supervisors doing the instrumentation. Samples used in the testing process are recorded along with the disposing of unused samples. This automated workflow provides traceability of the entire chain of custody and inventory associated with the sample.
The client portal and LIMS dashboard make it easy for growers to track the testing process in real-time, saving them both time and money. The grower can log into the dashboard at any time and understand what stage their samples are at in the testing process. They are automatically advised that when a COA is released, they may begin selling their product.
Synergies Between the Grower and Laboratories
Compliance and quality control are critical for cannabis testing laboratories to stay in business. What gives the laboratory manager extra comfort with a cannabis LIMS is knowing that a user cannot change the value of an instrument used in the testing process. Laboratory managers can restrict access to various aspects of the workflow and limit those who don't need full access to the level needed to perform their role.
Some states require sampling agents to go to the grower's site physically. Samples can't be shipped by mail, and carriers like FedEx and DHL will refuse to ship cannabis samples. Samples also can't be shipped across state lines. Therefore it makes sense for growers to use laboratories close to their operation. Since this is not always possible, samplers may need to travel for hours to a growers site. The LabWare GROW cannabis LIMS allows field technicians or samplers to place orders remotely in the field. When midfield at a grower's site, they can also order additional tests as required remotely. This is beneficial to growers as it expedites the process.
The LabWare GROW cannabis LIMS also informs the field technicians and growers what needs to be collected so that samples aren't wasted.
A laboratory manager wants to know that the data entered is accurately entered. That information comes from an instrument file. If customers or state regulatory bodies want limits to be checked, the system can deliver that test. If the test fails defined parameters or samples are trending towards out-of-spec, a remedy can be put in place immediately.
Since the cannabis LIMS delivers a rapid turnaround for compliance testing and gets COAs out to their clients quickly, it means growers can go to market much faster than with manual processes.
Why Cannabis LIMS Helps Consumers
Should the consumer question a grower or edible manufacturer, they can generate a COA on demand through the LIMS portal.
Consumers don't need to be confused with all the technical jargon that sits behind the product. All they want to know is, "Should I have any concerns about the reliability and potency of the product?" They want to know how good it tastes, how strong it is and how intoxicated they will become.
Labeling gives consumers the confidence they are receiving a product that meets regulatory standards. Since they don't have access to a client portal like growers, they can print a COA by scanning a unique QR barcode. This prevents counterfeiting and keeps illicit products off the market.
If the consumer has any concerns regarding the potency or quality of cannabis-related products, they need to scan the QR code on the packaging to view the COA. This ensures transparency and builds confidence that they are receiving a quality product, knowing it passed all the tests required.
Laboratories, growers, and consumers want to have faith that what is being reported is accurate. It's important that laboratories use a cannabis LIMS to aid in accurate testing and reporting of data to ensure they remain compliant. Using the made-for-purpose LabWare GROW cannabis LIMS software, laboratory managers can rest assured knowing their testing processes are robust, accurate, compliant and will stand up under audit.
Since cannabis LIMS workflows are automated, stakeholders are also assured that the input of data is accurate and the results aren't subject to human error. With an easy-to-use client-facing web portal, cannabis testing laboratories that use LabWare GROW cannabis LIMS keep customers informed effectively and efficiently. Their reporting system and accuracy of testing stand up to the most robust of audits.