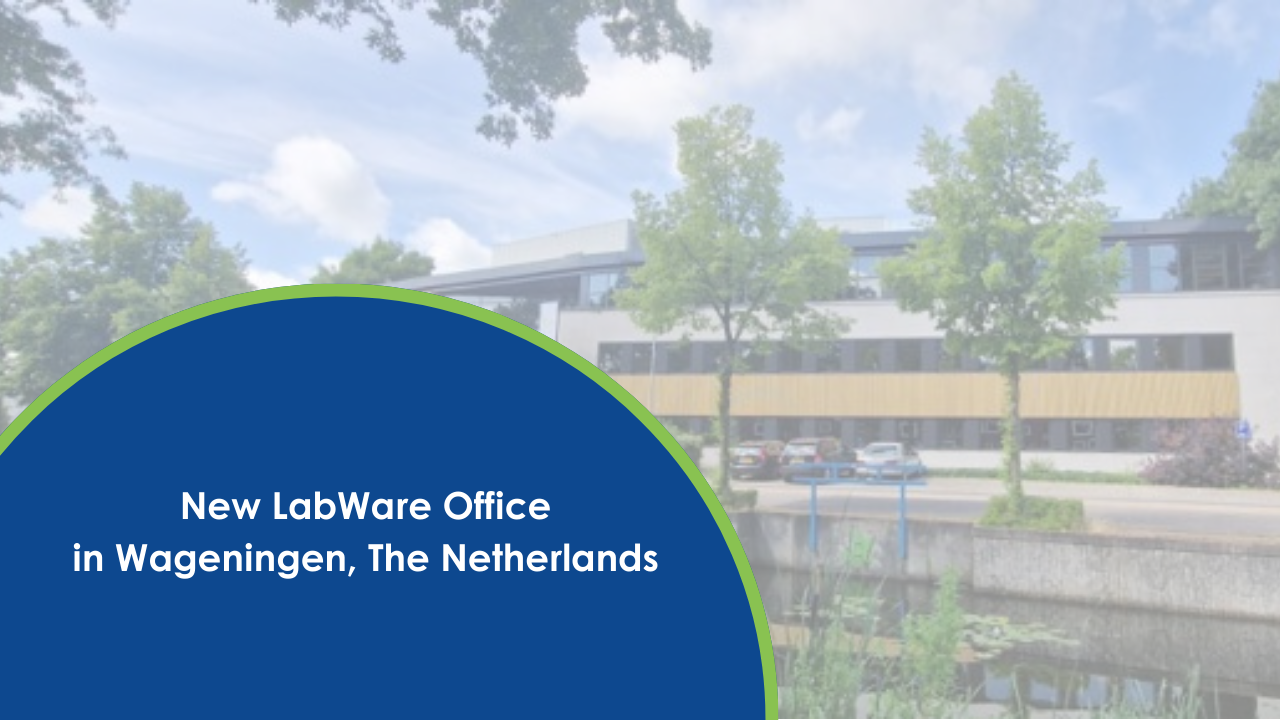 WAGENINGEN, NL -- LabWare Nederland
LabWare® branches out to Wageningen, The Netherlands, expanding its network of over 40 offices that operate across 6 continents.
The branch in Wageningen focuses on the Benelux area (Belgium, The Netherlands, and Luxembourg), starting with a team of 6 individuals that is expected to double within the next 3 years.
A strategic choice for the advancement of scientific research and innovation
The global recognition of the Netherlands as a hub for research and innovation uniquely positions it to offer strong backing to a company such as LabWare, worldwide leader in automation and data management solutions for laboratories.
Historic and multicultural city in the central Netherlands, in the province of Gelderland, Wageningen is renowned for its University, specializing in life sciences, agriculture, technical and engineering subjects. Wageningen is therefore known also as "The city of life sciences", with a leading position in these fields, as well as in health research and development, providing companies with both a customer base and a favorable environment for experimentation and innovation with a strong focus on sustainability.
Frank Hendriks, Territory Manager Benelux at LabWare, states: "When contemplating further expanding into Europe, we thoroughly assessed numerous potential locations, and Wageningen emerged as our top choice". The region's strategic positioning, alongside cutting-edge infrastructure, and proximity to diverse research institutions, offers an optimal setting for fostering collaboration and innovation.
LabWare's commitment to empower cross-sectoral sustainable solutions
LabWare promotes innovation and sustainable solutions within agriculture and food production by supporting research and development.
It is indeed LabWare's mission to deliver laboratory automation, efficiency, data integrity, and compliance by means of informatics solutions. The LabWare laboratory automation suite allows to easily manage data, optimizing workflows and collaboration – which is vital for companies striving to develop and implement sustainable technologies.
With its new premises in Wageningen, in the Agro Business Park Garden Offices – where multiple innovative health companies are also situated – LabWare Nederland connects with relevant partners and networks, perfectly aligning with the regional focus on driving innovation and sustainable solutions for global challenges.
Visit the Wageningen Office:
Agro Business Park 2
Garden Offices
6708 PW
Wageningen, Netherlands

About LabWare Inc.
LabWare is recognized as the global leader of Laboratory Information Management Systems (LIMS) and instrument integration software products. The company's Enterprise Laboratory Platform combines the award-winning LabWare LIMS™ and LabWare ELN™, which enables its clients to optimize compliance, improve quality, increase productivity, and reduce costs. LabWare is a full-service informatics provider offering software, professional implementation and validation services, training, and world-class technical support to ensure customers get the maximum value from their LabWare products.
Founded in 1987, the company is headquartered in Wilmington, Delaware, with offices throughout the world to support customer installations in over 125 countries.