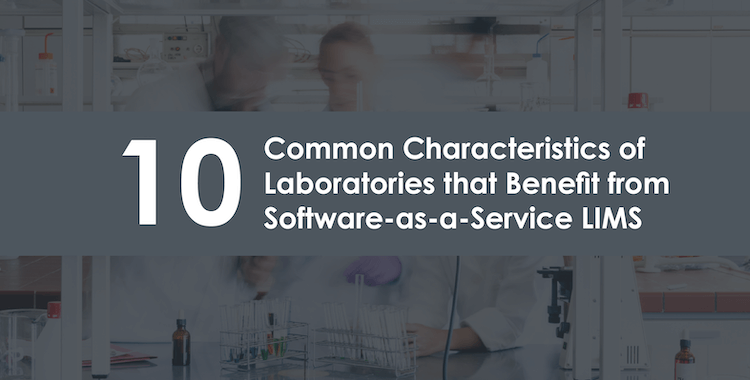 The way your lab is organized can make a dramatic difference in the cost-savings and efficiency that you are able to achieve, and never is that more important than in today's competitive environment. Laboratory managers are asked to optimize each element of their space, reducing manual processes and creating a smooth flow of operations that ensures you are taking full advantage of the assets that you have available. Leaders in the laboratory space are continually looking for options that will help utilize automation to add consistency, control, and flexibility to the outcomes you are able to deliver; process automation is one of the most high-impact uses of a laboratory information management system (LIMS) solution.
With a proactive software-as-a-service (SaaS) LIMS in place, you can often quickly increase overall lab throughput and control without endangering the effectiveness or efficiency of your analytical capabilities due to complex implementations. These advanced automation solutions provide support for ongoing processes, freeing up valuable staff time for more advanced functions.
Whether you already have a LIMS in place and are considering an upgrade to the cloud or have considered adding this type of platform for some time, here are signs that your laboratory operations could benefit from deploying a SaaS LIMS in the near future.
1. Lack of a Dedicated Internal IT Team
When you don't have access to internal IT professionals that can dig deep into the inner workings of your LIMS, it can be particularly difficult to get the day-to-day support that your teams will need to be successful. With a SaaS LIMS solution, upgrades and enhancements are rolled out via a cloud-based connection so you always have access to the most secure and reliable version of the solution that also contains any the latest enhancements.
2. Time-Sensitive Need for a LIMS
Whether you have a stakeholder that adamantly wants to have a LIMS in place pronto, or simply have a short window of opportunity to move a LIMS project forward, using a cloud-based application is often considered quicker than attempting to implement a solution on-premises. With much of the hosting and other considerations handled for you, your IT team or implementation partner is able to focus on providing the environment needed to automate your laboratory operations.
3. Interest in Minimizing Impact on Internal Operations
There are only so many hours in a week, and tying your internal assets up with an on-premise LIMS software implementation may not be the most efficient use of laboratory resources. With SaaS LIMS software from a trusted technical partner, it's often possible to minimize the impact on your internal operations so you can continue revenue-generation opportunities that will help boost innovation for the future.
4. Willingness to Adopt Industry Best Practices
Software solutions can be deployed more quickly if your laboratory managers and technical leaders are willing to accept the best practices in the industry. While this may require the retooling of some internal operations, aligning your laboratory with software solutions can introduce greater flexibility and consistency to your workflow. Reducing customizations also reduces the time and costs associated with new software and ongoing upgrades.
5. Labs That Are Not Performing Highly Unique Work
There are no standard practices and procedures that can be applied to every lab. However, if your lab is not performing highly unique work that requires specialized workflows and unusual steps or equipment, a SaaS LIMS software may be the ideal solution. With this uniformity comes the ease of use, which staff members will appreciate -- while senior leadership will approve of the reduced costs, improved controls, and key performance indicator (KPI) dashboards associated with the standardization.
6. Allow Your Scientists to Focus on the Science
The unfortunate reality of any software product is that it requires a fair level of support -- everything from server hosting and deployment to administration of passwords and access levels. Plus, system upgrades can be time-consuming but are a vital component of the security and growth of your systems. A major advantage of a LIMS solution is that researchers are not required to maintain a system or infrastructure internally, and can simply focus on the scientific aspects of their role.
7. Need for a Distributed Footprint
Storing your data in a single location can be a recipe for disaster, particularly for long-term projects and regulated testing that requires a high level of security. With a SaaS LIMS solution, you are able to not only store information securely and remotely but you can also gain access to information from a variety of locations. With on-premise software, users are often restricted to only accessing data or business applications from within a corporate location but SaaS LIMS offers increased options.
8. Limited Budgets for LIMS
You shouldn't have to skimp on business requirements simply because you have a limited budget for a LIMS solution. SaaS LIMS software often provides greater functionality at a more moderate price point, with custom deployments costing up to 3-5 times the cost of a SaaS LIMS.
9. Strict Requirements for Regulatory Compliance
When you adopt pre-defined workflows that are already in full compliance with industry regulations, it can provide a secure base for your operations. With a SaaS setup, your LIMS can be implemented with standardized practices, processes, and controls, easing you quickly into a more compliant solution.
10. Need to Minimize Business Risk
The cost of operating a laboratory can be significant, while the returns are also quite valuable when all requirements, standards, and customer expectations are met. Without the ability to ensure that the laboratory is performing to set standards, there can be a greater risk to the business. Adopting a SaaS LIMS solution ensures that your teams are following set best-practices and procedures for a well-controlled business process that is efficient and measurable.
Common Benefits of a SaaS LIMS for Laboratories
Working within a SaaS LIMS software environment provides multiple benefits for your laboratory, from advanced workflow automation to the ability to quickly access, report and perform analytics on results and variables across your centrally-stored data.
Manage your workload more effectively through a visual interface that provides laboratory managers with the ability to dive deep into specific processes.
Trust the reliable service that you'll receive with hosted remote LIMS software.
Easily monitor lab KPIs to find ways to improve the efficiency and consistency of your operations.
Gain access to rapid support solutions when you partner with the premier SaaS LIMS providers at LabWare.
Want to explore more benefits of a SaaS LIMS from LabWare? View our recent blog to dive into the ways a LIMS can elevate the experience within your laboratory.
Leverage a SaaS LIMS to Handle Your Lab Processes
Laboratories often have detailed and intricate processes in place to ensure that results are consistently measured across experiments, and this added complexity can often cause challenges for software solutions. With a SaaS LIMS in place and a willingness to adopt the best practices that are included in the base LabWare solution, you can often satisfy these complex operations without sacrificing your results.
Here is a sampling of the processes that can be managed with an advanced LIMS solution:
Maintain compliance with a dedicated chain of custody workflow
Provide certificate of analysis for the release of a product
Ensure the right specification tests are performed on product batches with automatic challenges against limits.
Manage inventory, stability studies, testing and reporting during the process of stability testing of a drug substance or drug product
Ensure that all environmental standards are maintained with proactive monitoring solutions
Well-Defined Testing That Works Well with a SaaS LIMS
There are admittedly some test scenarios that are highly specialized that may require additional customization. However, the below tests have been vetted and have well-defined workflows within the LabWare LIMS software:
Release of pharmaceutical drug substance, drug products, and raw materials
Stability testing of pharmaceutical drug substance and drug products
Inspection of a manufactured product or product part
Release of manufactured material or parts
Microbiological testing for EM of manufacturing spaces
Testing the quality of water
CBD/THC testing
What Kind of Laboratories are NOT a Good Fit for SaaS LIMS?
Based on everything we've covered so far, you probably have a good sense as to whether or not a SaaS LIMS deployment is right for your laboratory environment. Just in case, it's worth mentioning that there are testing environments where a SaaS LIMS isn't a great fit. Here are a few examples:
Scientific and laboratory processes that have very unique workflows. SaaS LIMS comes with pre-built best practice workflows, but they don't fit in every situation.
Labs that have low sample processing volume. If you process one batch per year you likely wouldn't need a SaaS LIMS, or any LIMS for that matter
Labs with boatloads of extra time and money...
Finding the right LIMS software solution for your laboratory can help improve the consistency of outcomes, reduce overhead costs and enhance your reporting options. When you are ready to see the value that a fully-validated LIMS solution can have for your operations, contact the professionals at LabWare at 302-658-8444 or request a demo online anytime.