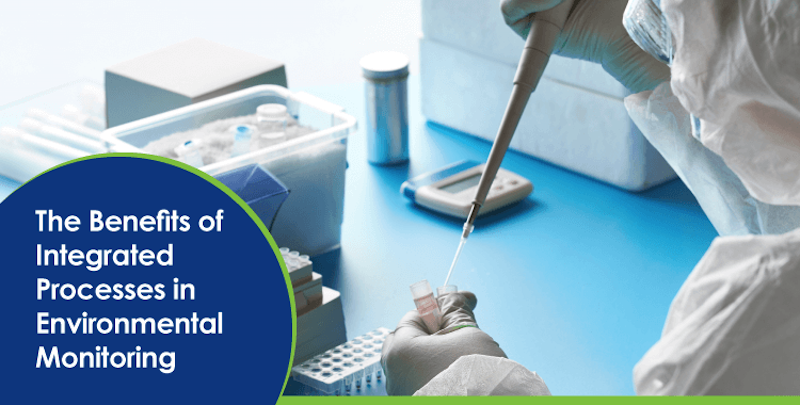 Laboratory operations are inherently expensive operations to develop and maintain, particularly in regulated industries. When operations are harmonized, the lab has the ability to leverage training, standard operating procedures (SOPs), instruments and infrastructure.
The more testing streams a lab can manage, the more efficient the operation can be while maintaining Good Practice guidelines and compliance. Including Environmental Monitoring (EM) samples in your integrated lab processes avoids expensive dedicated systems and operations.
EM programs typically include microbiology testing, so it makes good business sense to leverage established micro lab processes required for product release and packaging sterility testing. The ability to tie test data not just to product lots and batch specifications, but also to production locations and sampling schedules, is at the crux of effective and efficient quality control (QC) lab operations. Lots manufactured in a sterile suite or related to qualified water or other utilities can be traced throughout the production processes integrating the quality assurance (QA), QC and EM processes. A facility must be able to show evidence that all elements of production in a time period is sterile or pathogen-free and must be able to precisely trace the lots associated with both EM and QC samples, along with their testing.
The extent to which environmental monitoring is automated and integrated into the QC process, and thoroughly documented will determine efficiency and long-term success—which is why LIMS implementation is vital.
Using LIMS to Automate Your Environmental Monitoring Processes
If environmental monitoring is not part of LIMS implementation, it often means that the lab is relying on paper, spreadsheets, custom databases, and other manual tracking methods—likely to the detriment of consistent, reliable documentation. The biggest vulnerability that results from using paper-based documentation occurs surrounding an audit. Typically, there is a minimum requirement of being able to show quarterly trend data. Should an audit occur and data cannot be located to verify qualified conditions when and where a particular lot of product was made, the business will run the risk of a regulatory or customer citation for missing or partial data - or worse, significant impact to customers.
Having EM capabilities within LIMS allows for processes to be kept in control. Action limits can automate alerts and initiate protocols for additional sampling and confirmatory testing, as well as link to documented investigations. These alerts allow laboratories to get ahead of any problems before they become an ongoing issue or lead to massive contamination and provide evidence of good quality practices.
The automation inherent to LIMS ensures that facilities do not miss required sampling or testing, ultimately preventing poor audit outcomes, product recalls, or potential plant shutdowns. Regular reporting on sampling and tests that are consistently performed at particular frequencies is critical.
Again, environmental monitoring is at the forefront of audit inspections. Without a LIMS, facilities must manually produce large tabular summaries and trend charts periodically for internal or customer quality organizations or an oversight agency. Using a LIMS for environmental monitoring enables reporting and charting with push-button functionality, eliminating the days that it would otherwise take to generate this data. The data generation becomes both automatic and routine. Between tabular environmental monitoring results and associated trends, the automation provides massive time savings instead of taking multiple dedicated days each quarter.
Disadvantages of Having a Separate Environmental Monitoring System
A fairly common scenario is where a business recognizes that environmental monitoring is critical and implements a dedicated EM system. Using a specific solution for environmental monitoring forces the organization to support additional technologies for similar lab operations and, potentially, a complex system integration. In reality, any laboratory that performs environmental monitoring should use a LIMS for all samples, tests and results. Running the two separately can create inefficient operations, data gaps and complexity.
A LIMS can provide more benefits to a laboratory than it may seem on the surface. Dedicated EM functionality as part of a larger lab automation is critical because it helps to reinforce best practices for all operations. This centralization is industry best practice, rather than relying on niche solutions with limited functionality that address only one area of the business. By applying a single technology platform to harmonized sample and test workflows, the business can focus on their lab operations, which helps result in higher data quality and data accessibility.
Using LabWare LIMS for Environmental Monitoring
Use of EM that is integrated directly into the LIMS—and not separate from it—allows for maximum leverage of the operational capabilities behind the LIMS. Laboratories using LIMS in this way can leverage and integrate EM into their overall processes, so that there is no need to create new sample receipt workflows, laboratory capacity management workflows, or other duplicate efforts. Instead, the automation capacity of the LIMS may be leveraged, with one LIMS to manage overall sample test processes.
One set of technologies is used to maintain all workflows—simply, easily, and consistently. For any laboratory in an environment that requires QC or QA testing, it is inefficient to implement and support a system without environmental monitoring integrated directly with other workflows and routine testing.
LabWare LIMS is an enterprise system (not a single-purpose application) designed for all operations that manage samples, tests, and results—that includes end-to-end EM workflow management. The data for the LIMS is all in one place, with one central hub that serves as the center from which all aspects of lab operations are managed. Different technologies or teams are not needed to perform sampling and testing tasks and reporting—whether for audits or other reasons—is straightforward and consistent. This setup also allows labs to future-proof themselves. It is cheaper and more efficient to buy one system to leverage for working on a plethora of needed responsibilities instead of paying individually for each component and establishing multiple systems.
Because LabWare is one enterprise build, integration is a non-issue. Otherwise, particularly in the pharmaceutical industry, there would be a need to build, validate, and maintain an integration in order to connect the LIMS and EM. Such a build introduces additional failure points, more maintenance (internally or for consultants), and demands more of the customer.
LabWare offers a one-stop solution that gives every user the context needed to interpret data; for example, it is easier via LIMS to understand the impact of EM data on a particular lot or batch release. LabWare has the ability to automate alerts and action limits that trigger retesting or investigations so that quality control may be enforced even if no individual human is actively monitoring—and radically expanding the facilities' bandwidth while also maximizing ROI. Once investigations have been performed, their impact on things like the relationship to other QA/QC data, finished product lots released, raw materials qualified, and EM testing is easier to understand; it is easier to assess the impact of an unexpected result or condition.
The conclusion of an investigation could drive one of many outcomes as well as drive the action items and process improvements. Any subsequent inspection will show evidence of a high level of control as well as documentation over the environment for the purposes of compliance.
There is an inevitable interdependence between the functions of laboratory facilities and the quality organization. As harmonized processes are defined, they can be automated in a solution that is scalable, consistent, and comprehensive enough to cover all the required lab and related workflows, including EM. This is where a LIMS like LabWare comes in. Centered around an enterprise model, with an extensive out-of-box solution set, LabWare can manage all lab operations, EM programs, automate actions and investigations, and generate reports to maintain the highest levels of quality compliance.