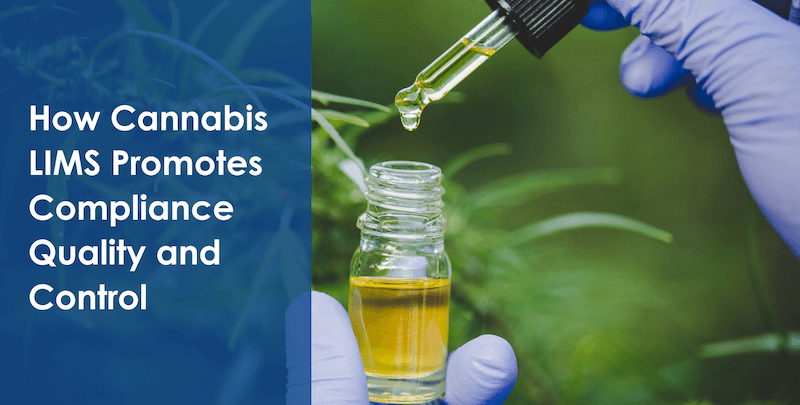 Due to the health benefits of cannabis, the drug has now been legalized in many states. Understanding the impacts of changing regulation on cannabis laboratories is important for many organizations. Laboratories must work to stay on top of best practices and in compliance with those regulations.
The Legal History of Cannabis
Increased restrictions for the use of cannabis as a poison were first recognized from 1906 onwards. While the prohibition of the drug began in the 1920s, by the mid-1930's cannabis was regulated as a controlled substance. Around that time, 35 states adopted the Uniform State Narcotic Drug Act in 1937.
With the passage of the Controlled Substances Act (CSA) in 1970, cannabis was outlawed for both adult and medical use. In 2012, Colorado and Washington were the first states to legalize the adult use of cannabis.
Many states have passed laws legalizing the medical and adult use of cannabis. By 2016, the majority of states legalized the use of cannabis for medical purposes. As of 2021, two U.S. territories, and D.C. along with seventeen states, have legalized the adult use of cannabis. Thirty-six states, four U.S. territories, and D.C. have legalized the medical use.
Regulation Impacts for Growers and Testing Laboratories
Since the use of cannabis for multiple purposes has been legalized in many states, regulatory testing ensures the drug's potency to ensure consumer safety. This means laboratories have been set up with the specific purpose of the testing and certification of cannabis products.
Regulations require that every cannabis plant, product and derivative need to be tracked through the supply chain. This ensures patients are receiving a legitimate product and keeps illicit products off the market.
Regulators have seen a marked increase of contaminated products or a dilution of potency. Consumers can get hurt by contaminated products. For example, pesticides used during cultivation behave very differently when combusted. This means cannabis plants can become toxic. Therefore, testing is critical to be fully compliant.
How Changing Cannabis Regulations Impacts Growers and Testing Laboratories
Plaguing the cannabis testing industry is a lack of consistent standards. This has led to unethical practices with some growers and cannabis testing laboratories.
Unethical Practices
Numerous cannabis testing laboratories have been closed down for allegedly reporting results that don't match up with audits. Some laboratories have destroyed evidence of falsified data in an attempt to hinder investigations. Regulators have also found that some cannabis testing laboratories are producing misleading and inaccurate results.
Unethical cannabis growers often shop around to find cannabis testing laboratories that will provide them with more favorable results. You also find growers will spray a flower with a sheen of distillate to increase the level of potency. Flowers might be dusted with additional THC crystals to increase potency levels.
In order to be competitive, some cannabis testing laboratories are prepared to falsify results. Some will mask the levels of contaminants in their samples, including heavy metals and microbes.
Risks of Unethical Testing
As regulators are uncovering acts of unethical behavior in cannabis testing, there is a flow-on effect. For growers, millions of dollars are tied up in cannabis products that cannot be released to the market. If contaminated products are released to the market, there is a serious health risk to the consumer.
Failing to show proof of changes during audits means a laboratory can be shut down. It can be a costly endeavor to set up a testing laboratory. Therefore, it doesn't make sense to falsify the results, nor does it make sense to open yourself up to class-action lawsuits.
For these reasons, there is an urgent need to regulate compliance standards across the board.
Types of Cannabis Regulations
A license to enable cannabis testing is granted per laboratory location, not by state to state. A cannabis testing laboratory cannot be set up without being ISO/IEC 17025 recognized. This is non-negotiable.
State reporting requirements mean cannabis testing laboratories must meet state regulations. It's not just the standardization of testing that is required. Labeling and terminology, for instance, can be misleading. THC testing results can be defined on a dry-weight basis. The problem is that growers all have different drying and curing processes. This can alter the results.
Patient adult use is regulated on a state basis as opposed to ISO guidelines. What makes this even more complex is that different government departments regulate cannabis laws from state to state.
How a Cannabis LIMS Can Help Ensure Complete Compliance
In light of these complexities and ever-changing regulations, it's essential that quality control stays top of mind for laboratory managers.
Regulations require that every cannabis product and derivative needs to be tracked through the supply chain. Regulatory testing ensures the potency of the drug to ensure consumer safety. This ensures patients are receiving a legitimate product and keeps illicit products off the market.
What is a Laboratory Information Management System?
Regulatory compliance is dependent on cannabis testing laboratories having a quality management system. Quality assurance means cannabis testing laboratories need to verify the integrity of the testing process. The outcomes must be reported honestly, even if a sample fails to meet regulatory standards.
Due to the high volume of data and information, for a cannabis testing laboratory to stay compliant, they need robust workflows. For this reason, many cannabis testing laboratories are turning to a laboratory information management system (LIMS) to manage their workflows for CBD and THC Testing.
What are the Benefits of Using LabWare GROW Cannabis LIMS?
Having quality cannabis LIMS software enables complete transparency and traceability before, during, and after the testing process. An LIMS that was developed specifically for use with cannabis provides laboratory managers with the robust, automated system that is necessary for maintaining compliance.
What makes LabWare GROW the most sought-after LIMS for cannabis testing laboratories is that it's flexible enough to manage differing state-by-state requirements. Individual state requirements are already embedded in their cannabis LIMS software. This means laboratories don't need to customize their cannabis LIMS to meet regulatory requirements.
The implementation costs for implementing a LabWare Grow cannabis LIMS are relatively low. The software easily integrates with existing external platforms.
Staying Compliant
Laboratories must provide evidence of a chain of custody from when a cannabis sample enters the laboratory until the product receives a Certificate of Analysis (COA). Because a cannabis LIMS automates all workflows and reports, the laboratory is not subject to human error. From the moment the laboratory receives an order from a grower, QR barcodes are automatically generated. This barcode identifies the sample with the utmost accuracy.
Workflow Automation
Automation with a dedicated cannabis LIMS like LabWare GROW makes batch management and sample management easy. The cannabis LIMS software automates the workflow, which removes human error, providing accuracy of documentation. These workflows are compliant for cannabis testing, with all necessary tracking built-in from start to finish.
As a grower and consumer, you can rest assured LabWare GROW will give you accurate results every time. The cannabis LIMS software comes pre-configured to contain best-practice workflows that adhere to Good Laboratory Practice (GLP) and Good Manufacturing Practice (GMP) requirements. These standards are recognized by auditors. This means a cannabis testing laboratory manager has peace of mind they will pass any audits conducted by regulatory bodies.
Certificate of Analysis
With an automated workflow, cannabis LIMS software can track workflows with incredible accuracy. This gives the grower and the consumer traceability from receipt of cannabis samples to final reporting, resulting in the generation of a COA. The cannabis LIMS manages the entire sample lifecycle from receipt to the COA.
Documentation for Passing Audits
When a laboratory using LabWare GROW is audited, the software validates and produces reports on how the implementation was carried out. The laboratory manager can deliver accurate records of the chain of custody; from sample receipt through storage, testing and disposal. This process ensures compliance with regulatory standards.
LabWare GROW reduces data entry errors and expedites data processing. Interfaced instruments securely transfer data directly into the system. These records are secured and can be accessed at any time by those with the right levels of permissions.
Robust Reporting
LabWare GROW supports the ISO/IEC 17025 standard, generating accurate and reliable results. Regulators and auditors require records of analysts and other personnel involved in the testing process. Laboratory workers are required to receive the proper training pertaining to cannabis testing procedures. A cannabis LIMS manages documents, personnel training records and Corrective Action Preventative Action (CAPA) with ease.
You can reduce the time spent on reporting to the state authorities with a solution that's integrated into your state's seed-to-sale system.
Growers and laboratories alike must adhere to international, federal, and state regulations for cannabis testing and compliance. It doesn't pay to take shortcuts when it comes to compliance in the industry.
It's imperative you invest in quality cannabis LIMS like LabWare GROW, where all the work is done for you. You'll sleep well at night knowing you are not only compliant, but your data is also safe, secure, and readily accessed at all times.