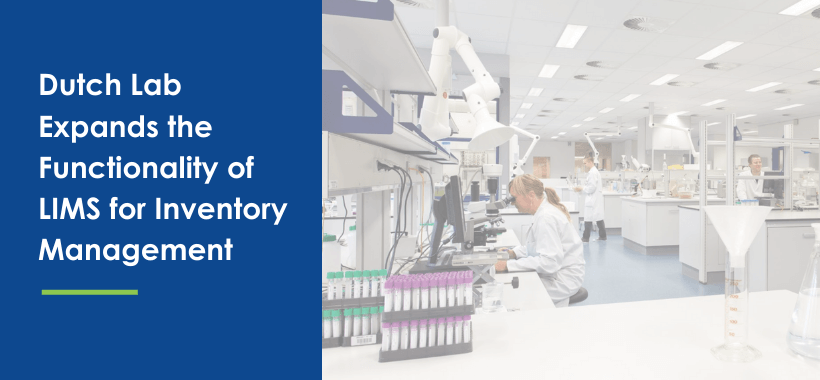 Note: This story was featured in the April 2021 edition of LABInsights and has been edited for clarity.
Denkavit recently expanded the functionality of its LIMS, adding options for inventory management, tracking consumption and ordering lab consumables. To facilitate these additions to an application the animal feed manufacturer has been using since 2014, Denkavit's LIMS supplier adapted its existing inventory management template and added new, client-specific functionalities.
"We were already using a LIMS when we decided to go mostly paperless in 2012," says Pascal Harmsen, Laboratory Team Leader at Denkavit in Voorthuizen, the Netherlands. "That decision led us to select a new LIMS and by 2014, we were ready to commission LabWare LIMS. That took some time to get used to, because it's a software package with far more functionalities, but after a while we all knew what was what. And now everyone's very happy with it."
Over the years, the number of administrative procedures has been growing steadily and those new requirements have all been integrated into the LIMS. "It still meets our needs for insight and overview," says Harmsen.
The functionalities Denkavit has integrated into its LIMS include quality monitoring and HACCP-based contaminant monitoring.
"When we record a sample," Harmsen explains, "LabWare automatically assesses whether it needs additional analyses and adds these to the sample. In order to visualize and monitor progress, a visual workflow was added, a graphic representation based on a Gantt timeline chart."
| | |
| --- | --- |
| Company: | Denkavit |
| Pakket: | LabWare LIMS 7.02i |
| Commissioning date: | July 2014 version 6, November 2016 update to version 7 |
| Number of simultaneous users: | 26 in the Netherlands, growing number in France |
| Server: | SQL server |
| Configuration modules: | Standard, reagent & inventory management template |
33,000 Samples Per Year
Since its foundation in 1929, Denkavit has developed into a global player in the young animal nutrition, veal and feed ingredient markets. The family business employs 600 people and exports its products to 60 countries. Staff at the central lab in Voorthuizen analyze about 33,000 samples per year.
The lab tests raw materials and finished products for nutritional composition and the presence of contaminants. "Raw materials may only be unloaded after they've been tested and approved," says Harmsen. The lab is also involved in R&D for Denkavit's DenkaFarm Innovation Centre, for which it tests new raw materials, feeds and concepts. The lab uses technologies including FT-NIR, ICP, HPLC, XRF, Dumas and Kjeldahl for nitrogen content analysis, microscopy, ELISA, gas chromatography, liquid chromatography, and microbiological analyses.
Every Denkavit production facility in the Netherlands, France, Italy and the USA has its own lab. In Germany and Spain, Denkavit has sales offices.
Inventory Management
Recently, Denkavit added inventory management to its LIMS. This was the result of a joint project with LabWare in which a 'Standard Reagent & Inventory Template' was configured in the LIMS.
"Before, we used a commercial software package to keep track of our reagents and other consumables, but the supplier stopped supporting that," Harmsen explains. "So we needed an alternative. Initially, we looked at other commercially available packages.
However, those turned out to be not only very expensive, but also to have an overkill in functionality we didn't need. It's like being forced to buy a cruise liner when all you need is a canoe. And worst of all, you then have to reconfigure that cruise liner to serve as a canoe."
This led the company to consider a solution within its LIMS. "LabWare let us know that this would indeed be possible, using their inventory management template as a foundation," says Harmsen. "We had a good look at this module and concluded that it would serve our purposes nicely. It was a great inventory management solution. All we needed to do was add an ordering system."
Domain Knowledge
In order to add an ordering system, LabWare put Denkavit in touch with one of its consultants specialized in the inventory management template. The Denkavit lab put their requirements on paper and asked the consultant for advice. Harmsen has high praise for the collaboration.
"My experience with software consultants is that they tend to be really well-versed in the software functionality, but lack the knowledge of the client's domain needed to turn the software into a domain-specific application. Usually, a lot gets lost in translation. However, this consultant was different. He understood what we needed and was able to adjust the template accordingly. He also knew how to ask the right questions, and how to verify that he had understood us correctly. Working with him was like a breath of fresh air."
LabWare realized this client-specific application might be of interest to other users of their LIMS. That is why the LIMS supplier is currently integrating the inventory management add-on it developed with Denkavit into a new version of its inventory management template. Harmsen, for one, sees the wisdom of this. "I can imagine that many businesses would be interested in linking their inventory management to an ordering system. We're very happy with this solution, in any case," Harmsen says.