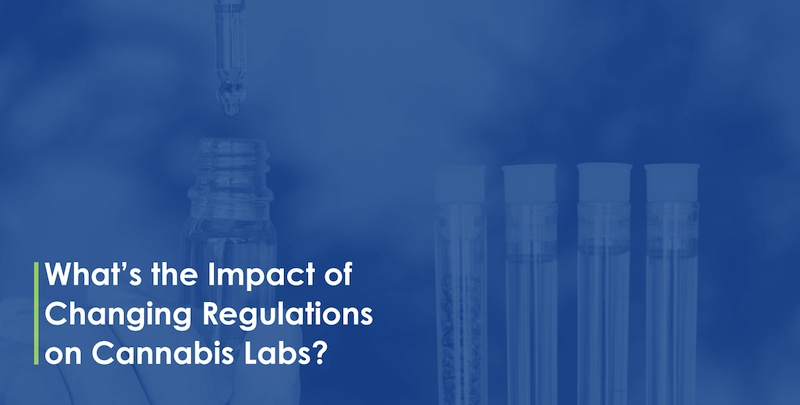 Cannabis is a complex plant containing a group of chemicals known as cannabinoids. Cannabidiol is commonly referred to as CBD, while delta-9-tetrahydrocannabinol is referred to as THC.
Since the use of cannabis for medical and adult use purposes has been legalized in many states, regulatory testing ensures the potency of the drug to ensure consumer safety. Regulations require that every hemp plant, product, and derivative needs to be tracked through the supply chain. This ensures patients are receiving a legitimate product and keeps illicit products off the market.
Therefore, we are seeing a growing number of laboratories specializing in the testing and certification of cannabis products.
Regulatory Compliance of Cannabis Laboratories
A license to enable cannabis testing is granted per laboratory location, not state to state. ISO 17025 Certification is also a requirement for cannabis testing laboratories, along with multiple state and federal requirements. This is non-negotiable.
Regulatory compliance along with state tracking systems and reporting requirements means cannabis testing laboratories need to meet state regulations. Various states have different rules and requirements for testing and reporting of cannabis products. Patient adult use is regulated state to state as opposed to ISO guidelines.
Due to the massive volume of data and information, many cannabis testing laboratories are turning to a laboratory information management system (LIMS) to manage the process. Due to regulatory compliance and safety concerns, more than ever laboratories are using cannabis LIMS for CBD and THC Testing.
Having quality cannabis LIMS software that enables transparency and traceability is critical to staying in compliance. Falling out of compliance could mean a cannabis testing laboratory could be shut down.
Regulatory compliance is dependent on having a quality management system (QMS). Quality assurance requires cannabis testing laboratories to verify the integrity of the testing process. The outcomes must be reported honestly, even if a sample fails to meet regulatory standards.
The Importance of Cannabis Lab Automation
Regulated laboratories are required to provide evidence of a chain of custody from the moment a cannabis sample enters the laboratory until the product receives a Certificate of Analysis (COA), and all testing material has been properly disposed.
Anytime a process is controlled manually, there is the propensity for human error. Data can be lost, misreported or even contaminated in the process. With an automated workflow, cannabis LIMS software can track workflows with incredible accuracy. This gives the grower and the consumer traceability from receipt of cannabis samples to final reporting, resulting in the generation of a COA.
Since cannabis is a controlled substance, the FDA, DEA or DOJ—depending on what state the laboratory is located—requires full accountability with the waste disposal of cannabis products. A cannabis testing laboratory must account for samples that are not used in the testing process to be destroyed. This makes inventory management a critical factor in managing all samples that enter a laboratory environment.
Barcoding
Automation with a dedicated cannabis LIMS makes batch management and sample management easy. Once an order is placed, a 2D barcode is automatically generated to track the sample location in the laboratory. This ensures samples are not mislabeled or mixed-up. Barcoding samples promote analytical testing speed and accuracy and consumers receive precise test results.
Remote Access
A huge benefit of LabWare GROW is that clients can log into the system remotely and place an order. Once the order is received, a barcode is automatically generated saving time and money. It means the testing process begins immediately. In a highly competitive industry, growers don't want to sit with hundreds of thousands of products they can't sell because they haven't received their COA. Remote access and instant barcodes expedite the process.
Workflow Automation
Cannabis LIMS software automates the workflow, which removes human error providing accuracy of documentation. LabWare GROW cannabis LIMS software comes pre-configured to contain best-practice workflows that adhere to Good Laboratory Practice (GLP) and Good Manufacturing Practice (GMP) requirements. These workflows are compliant for cannabis testing, with all necessary tracking built-in from start to finish. Additionally, they are recognized by auditors. The added benefit is that the software easily integrates with existing external platforms.
You receive a complete workflow from receipt to reporting as the cannabis LIMS manages the entire sample lifecycle. You know exactly the whereabouts of the states of any sample in the laboratory at any time.
Automated workflow management promotes better workflow efficiency and resource allocation within the laboratory environment. Workflow automation begins with a unique Sample ID with barcoding from login to final disposition. The sample and split-sample tracking enable the monitoring and reporting of an accurate chain of custody.
Maintenance and Calibration
LabWare GROW is the leading cannabis LIMS provider with a bi-directional interface to external cannabis platforms. This enables cannabis testing laboratories to automate orders, sample management, testing and reporting for cannabis and hemp analysis.
The maintenance and calibration schedules of laboratory instruments are automatically tracked along with employee training records. LIMS records comprehensive audit logs for all laboratory activities with a timestamp and the date.
All data is kept secure and confidential, keeping sensitive data inaccessible from unauthorized user access. With this level of accuracy,cannabis testing laboratories can stay compliant with regulatory standards supported with robust reporting capability.
KPIs Trends and Reporting
The LabWare GROW cannabis LIMS software delivers COAs, along with a full chain of custody reports. Additionally, it reports on instrument calibration, standard reagent and user activity logs, along with an audit history for every test.
Real-time reporting can be exported to a web portal or email. The KPI dashboards also produce managerial style reports to include the turnaround time of a sample tested, how many tests were conducted per week, or per analyst.
The financial reporting capability allows financial queries for exports to a software such as QuickBooks, along with orders per client, and consumables used in testing. To help with inventory management, the system produces reports of inventory, stocks of reagent samples and reorder reports to see what the laboratory is low on.
How Can LabWare GROW Help Your Cannabis Laboratory?
Implementing LabWare GROW cannabis LIMS is a huge benefit to the cannabis industry. This is because it has been built for labs, by labs. All best practices have been incorporated into the software by working closely with partners in the cannabis industry.
Since regulations on cannabis testing vary from state to state, LabWare GROW has individual state requirements already embedded in their cannabis LIMS software.
What sets a cannabis LIMS like LabWare Grow software apart? It's flexible enough to manage differing state-by-state requirements. This means laboratories don't need to customize their cannabis LIMS to meet regulatory requirements.
The start-up costs for a cannabis testing laboratory are relatively low. The major benefit of course is mitigating the risk of being shut down due to non-compliance with the regulatory framework.
When a cannabis and hemp testing laboratory using LabWare GROW is audited, the software validates and produces reports on how the implementation was carried out. The lab can deliver accurate records of the chain of custody, from sample receipt through storage, testing and disposal. The system reduces data entry errors and expedites data processing as interfaced instruments securely transfer data directly into the system.
You can reduce the time spent on reporting to the state authorities with a solution that's integrated into your state's seed-to-sale system. LabWare GROW supports the ISO/IEC 17025 standard, enhancing the sustainability of a laboratory. The system manages documents, personnel training records and Corrective Action Preventative Action (CAPA) with ease.
Given the rapidly changing nature of the cannabis industry, to be competitive, a dedicated cannabis LIMS is a necessity for high-volume cannabis laboratories to ensure ongoing compliance. If you are looking for quality control testing tools for every role in your CBD and THC testing laboratory, LabWare GROW is an obvious choice. It's the world's most powerful SaaS LIMS. You can rest assured that the system is SOC-2 certified and aligned with the latest regulatory data integrity guidelines.
For more than 30 years, LabWare's software has become flexible enough to manage differing state-by-state requirements. This means laboratories don't need to customize their LIMS to meet regulatory requirements. LabWare GROW is purpose-built for cannabis and hemp testing laboratories. The added benefit is that the software also reduces manual workloads and enhances operational efficiency. LabWare GROW cannabis LIMS supports effective data management and security, along with regulatory compliance for cannabis testing laboratories.