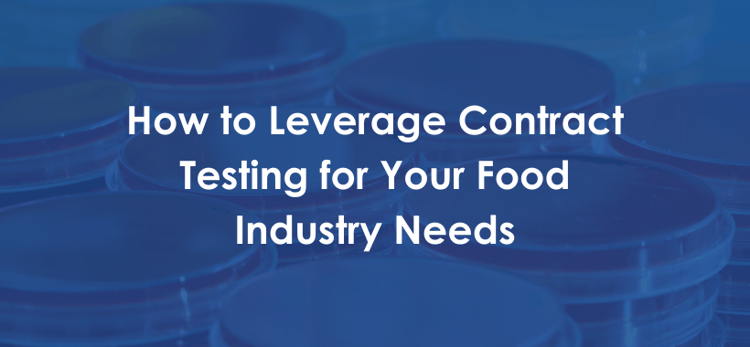 Finding an experienced and accredited third-party lab partner is vitally important in the food and beverage industry to assure consistently accurate results. There is a lot of competition, and there are many choices available to lab managers that may already be stretched thin by their job roles and duties.
The synergy between a third-party lab partner and its ability to impact revenue is crucial to nail down. The lab and the business influence each other and affect how the lab manager handles leveraging contract testing for food and beverage needs.
Choosing the Right Third-Party Lab Partner
It may sound elementary but choosing the right third-party lab partner is one of the most crucial decisions a lab manager can make regarding leveraging contract testing for food and beverage industry needs.
Every day, these partners provide the ability to track samples to external laboratories, and they can exchange data electronically with labs. For example, Kellogg's has a data pipeline with Eurofins, and General Mills has their own contract lab called Medallion Labs. They create their samples and use automation to sync the data between the lab and the partner.
When choosing the right third-party lab partner, there are a handful of things to look at and some questions to consider as a lab manager looking to leverage contract testing.
Are They Accredited?
Before investing any time or effort into considering a third-party lab partner, it is imperative to make sure they are ISO accredited. This means that they hold no less than the standard ISO 17025 accreditation for the food and beverage industry.
What Is Their Methodology?
Though each lab may have unique situations, lab managers are looking for lab management software to provide structure and integrity to their results. Each company is different: Tyson or General Mills have different standards and requirements than a smaller or less-complex organization. Your lab manager needs the confidence that their LIMS will handle the complexities involved in their particular situation; it should align with the methodologies currently in place and those that will arise in the future.
How Much Does It Cost?
Cost means more than explicit financials. Outsourcing can come with indirect benefits that are not always related directly to cost. For example, the time it saves a lab manager compounded over time could be a cost-saving factor to consider. There's a potential cost of getting something wrong internally rather than being able to trust a third-party contract lab with experience. It is important to fully understand the total expenditure, including transportation, sample collection, and processing.
Third-party contract labs may offer additional services.. Be sure it is clear which are necessary and which are non-essential.
Where Are They Located?
Time is money — it is as simple as that. The location of your third-party contract lab influences the time it takes to process samples and provide feedback. The closer the lab is to your area, the faster the real-time processing of information for production.
Move From Revenue Negative to Revenue Positive
Some companies have evolved from sending samples out to contract labs to becoming contract lab organizations because they use their LIMS (laboratory information management system). This shift has taken them from revenue negative to revenue positive when it comes to lab testing.
From a contract lab perspective, the key differentiator is the ability to manage costs. These are all about staffing and efficiency. Either there is enough staff for growth and compliance, or there isn't, and a third-party contract lab should be utilized.
Even in 2022, widespread food and beverage industry publications such as Food Safety Tech show this growth in the effective use of third-party contract labs among lab managers and companies alike. This trend is especially true for companies taking on anything locally sourced.
Utilize LabWare to Ensure Consistent, Repeatable Results
LabWare has been a world leader in laboratory information management software for more than 30 years. Our team has worked with labs of all sizes to implement our unique solution in a way that is cost-effective and helps reduce overall overhead while producing consistent results in your lab. We have developed our own proprietary contract lab solution that allows commercial laboratories to maintain full control and management of the costs of testing and ISO 17025 compliance.Standard features provide customer management, customer-specific testing requirements, flexible event-triggered reporting, and advanced features for fast and efficient information delivery. Many food and beverage companies have seen value from leveraging this comprehensive and adaptable business solution.