WILMINGTON, Del.-- LabWare, Inc., recognized worldwide as the leader in enterprise laboratory automation software, today announced that it has once again been ranked as a "Leader" in the LIMS Systems Category on G2's 2022 Summer Reports.
LIMS Leader
To date, over 60 customers have shared their experience working with LabWare on G2.com, the world's #1 website for software buyers.
Beyond receiving an average overall rating of 4.5 out of 5 from customers, here are some highlights from the G2 Summer 2022 Reports:
Feature Comparison: Lab Informatics >
96% recommend LabWare for ELN Support

96% recommend LabWare for Workflow Management


Feature Comparison: Chain of Custody >
97% recommend LabWare for Sample Management

94% recommend LabWare for Data Warehouse

93% recommend LabWare for Inventory Management
More LIMS Rankings
Beyond G2.com, LabWare has been recently ranked as a top LIMS in the world by other publications including:
Medhealth Outlook: Top 10 Lab Management Solution Providers 2022
Sourceforge: Top LIMS Software of 2022
Slashdot: Top LIMS Software in 2022
Capterra: Best LIMS Software 2022
SoftwareConnect: 15 Best Lab Information Management Systems of 2022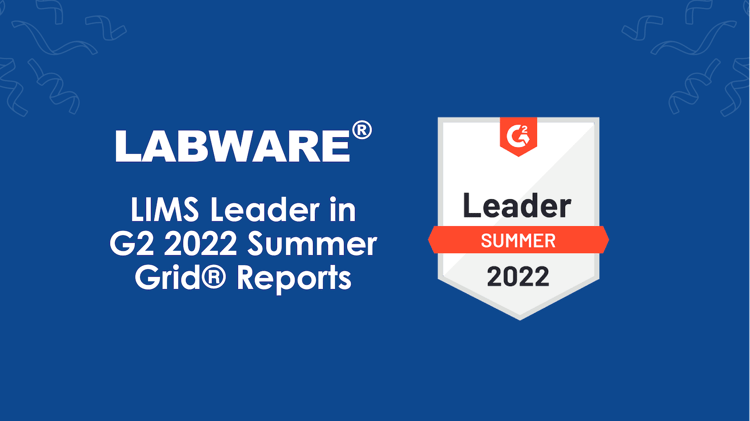 Recent Customer Testimonials of LabWare LIMS on G2
Flexible LIMS Deployment Types

Flexibility is often highlighted by our customers as one of their favorite LabWare features. It's critical to point out that we have flexible deployment types for laboratories with unique requirements and urgent timelines.
SaaS - Cloud-hosted by LabWare. Validated and preconfigured for rapid deployment.
LabWare Hosted -

Cloud-hosted by LabWare. Best practice industry solutions customized for you.

Your Cloud - Cloud provider of your choice. Completely customized.
Self-Hosted - Locally hosted through on premise installation. Completely customized