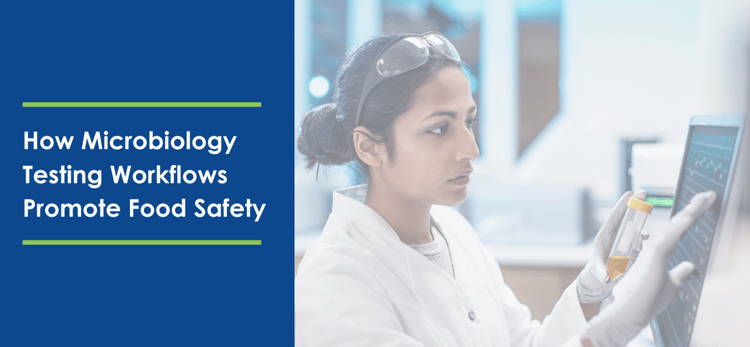 All food processors must adopt well-designed and compliant safety systems to safeguard their products from harmful elements. Microbiological testing is essential in the food and beverage industry to ensure the safety of products.
Microbiology lab test types include tests that check for E. coli, Salmonella, Legionella, and other common pathogens that can taint food and beverages. Contaminated products could lead to food poisoning and other health problems, putting people in danger and causing legal trouble for manufacturers and distributors. To avoid these risks, businesses and the regulators that ensure compliance with regulations prioritize microbiology testing.
For companies in the food and beverage industry, microbiological testing keeps products safe and prevents dangerous pathogens from finding their way into the food chain. It is a vital part of the industry that protects people and businesses by ensuring safety.
Microbiology Testing Workflow
There are various methods for identifying and verifying microorganisms; however, three types are commercially popular among these methods.
Culture Media
Microbiological laboratories use this medium to identify and detect different microorganisms by cultivating or growing them. Culture media usually contain different nutrients that enhance the growth of microbes.
Immunoassay
As a microbiological test, immunoassay uses antibodies or immunoglobulins to measure the concentration of macromolecules in a solution. Analytes are macromolecules detected by an immunoassay method, and in many cases, these are proteins.
Polymerase Chain Reaction
Dr. Kary Mullis developed a revolutionary new technique in 1983 to identify pathogenic organisms. Polymerase Chain Reaction (PCR) is now a common and often indispensable technique for diverse applications, and it is now widely used in medical and biological research labs. PCR testing recognizes nucleic acid sequences (DNA and RNA) specific to target pathogenic organisms. The PCR process relies on the ability of the enzyme DNA polymerase to create billions of copies of a particular DNA sequence.
How To Use LIMS for Microbiology Testing
A laboratory information management system (LIMS) can enable you to manage samples, sample batches, and their associated data effectively. Using a LIMS allows you to automate lab workflows and integrate instruments Additionally, you can produce reliable results faster and optimize efficiency by tracking results over time and across experiments.
As laboratories generate unprecedented amounts of data, they must modernize their approach to managing, tracking, and centralizing information as data volumes and sample throughput increase.
Using a LIMS allows you to control the workflow of a test. Since the process is automated, lab members can be assigned to specific roles in the workflow, and the system automatically 'pushes' the sample and test through its lifecycle.
In addition to tracking and managing samples, a robust LIMS can also:
Centralize access and storage of quality control data
Contribute to compliance efforts
Manage reagents and media in sample and control batches
Monitor instrument runs
Analyze downstream data
Improve lab efficiency by integrating with instruments or other in-lab systems
Having these activities managed by software frees time for lab staff to focus on other essential tasks.
Reduce Human Error and Improve Documentation With a LIMS
Laboratories must track, document, and manage all samples, reagents, consumables, and other inventories. With a LIMS, scientists can easily access what they need when they need it and reduce the amount of time and human error that can result from manual data entry.
Lot Management and Release
A LIMS is an ideal solution to monitor batch usage and performance. Quality managers can use LIMS to track product lots throughout laboratory testing processes. By making similar batch information available, the system allows analysis of the entire product, not just a single batch.
Shelf Life Study Management
Food and beverage manufacturers determine the shelf life of their products using stability studies to test products by keeping them at specific temperatures and humidity levels. Food testing laboratories perform microbiological, chemical, and physical analyses throughout a stability study. The data from these studies show the effects of storing samples at different temperatures and humidity levels and for various time intervals. A LIMS ensures that the laboratory pulls study samples at times defined in a protocol and that sufficient sample inventory is allocated to the study, correct tests are assigned, completed, and the results reviewed and statistically analyzed.
Environmental Monitoring
LIMS can automate programs to manage periodic sampling to ensure sanitary production systems. EM programs can include the manufacturing environment, utilities like water and gases, and sanitation procedures for manufacturing equipment..
Operational Reporting
LIMS provides visibility and access to data defining the lab operations capacity and throughput and a means to understand bottlenecks. Data in LIMS can be used to manage both operational factors like incoming sample/test demand as well as critical lab inventories like standards and reagents, automatically decrementing inventory upon consumption. Audit Trails ensure a clear understanding of all transactions that take place over the lifecycle of a sample and help to maintain quality as well as provide a means of continuous improvement.
Minimize Resource Consumption
By automating sample processing, labs can spend more time on actual analysis and work. Allowing LIMS to automate rote processes means lab personnel can focus on value added activities and use their skills on higher level activities.
Leverage LIMS to Improve Lab Efficiency and Add Structure to Your Microbiology Testing
At LabWare, we understand how essential microbiology testing is for the food and beverage industry, and we believe our software is the solution to many problems. LIMS integrates seamlessly with lab instruments 'pushes' the sample/test through its lifecycle, thus eliminating manual labor by automating repetitive tasks.
Using a LIMS allows food manufacturers and contract labs to integrate across platforms using a secure electronic data delivery system, which makes up a unified database to improve collaboration.