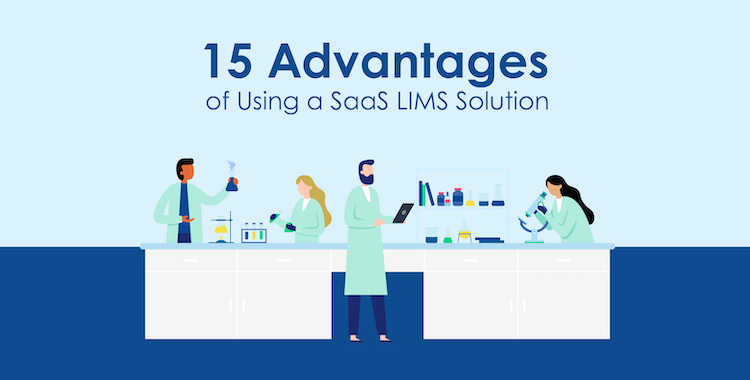 It's important to understand the advantages of a LIMS implementation and how it elevates the performance and efficiency of a laboratory. By automating adherence to best practices as well as introducing controlled sample and data management, laboratories can free up time and resources while also improving quality controls and laboratory performance measurement.
The software-as-a-service (SaaS) model of a LIMS solution elevates those advantages further by adding in dynamic yet reliable computing power via the cloud. In addition to offering robust data back-up options, the SaaS model allows for the on-demand expansion or reduction of resources, without facing lag, unexpected hardware costs, or other inefficiencies.
In fact, experts cite 15 core advantages of LIMS implementation, applicable across use cases but all centering around maximizing the efficiency and reliability of laboratory record management.
1. Rapid deployment
Within as little as thirty days, a SaaS LIMS can be fully deployed and live. The focus with such an implementation is less on customization or configuration and more on reinforcing universal best practices. This in turn eliminates the need for design-from-scratch, detailed workflow mapping, custom development time, validation time, and other processes intended to capture unique aspects of individual labs.
Instead, SaaS LIMS drives the adoption of best practices. In parallel, time and cost from implementation and onboarding are saved.
2. Pre-configured workflows
There are thousands of ways to carry out any laboratory task, but the best way will define processes that follow best practices, and are accompanied by workflows that work for everyone in the laboratory. Validated, pre-configured workflows that are known to effectively support laboratory operations are part of what is expected in a LIMS.
For example, many labs require lot testing that ensures adherence to GLP, GMP, and regulatory expectations. This involves testing samples to see if a batch is suitable for release, which requires tracking of batches of drugs, pills, parts, and so forth. A robust LIMS documents item attributes and sources, monitors its path and consumption in the laboratory, confirms completed testing, while also documenting the data generated, and reports on pass/fail results.
With a SaaS LIMS solution, less time is spent documenting and onboarding to a best practice workflow, as well as monitoring adherence to it, because the sample processes and tracking are built into its automation. Because the system was designed with an understanding of regulatory requirements across industries, best practices are baked in­—including barcodes and unique identifiers to track each sample through the entire testing process.
3. Fully validated system
An already-validated system can save as much as 30-50 percent of the total system cost, cutting back from the required tests, validation, due diligence on requirements, and documentation processes needed.
A customized solution may sound tempting, but in reality it requires the user to take responsibility for the validation, which adds a lot of extra work. Instead, with a SaaS LIMS like LabWare QA/QC, the validation is already complete. Laboratories can examine the validation summary to ensure it aligns with their regulatory requirements, and from there they can choose to either proceed or to augment with additional documentation.
4. Validated upgrades
Included in a SaaS subscription are upgrades that are validated to comply with regulatory requirements and workflow best practices. Instead of needing to worry about ongoing costly upgrade projects and the associated testing, validation is already complete while the system is also kept completely up-to-date with the latest improvements.
5. Affordable yet reliable
An established SaaS LIMS functions effectively by reliably storing information on the cloud and operates smoothly, without lags or crashes, by requiring minimal local resources. In fact, it's hosted on web browsers, and so it doesn't need powerful or expensive PCs in order to run.
The ability to run LIMS without needing to constantly troubleshoot and fix its setup keeps IT costs low. If any issues do arise, software and server management is included in the SaaS subscription cost.
6. Secure environment for your data
A SaaS LIMS offers the highest standards of security, both within the application as well as at infrastructure levels. Application wise, LabWare supports advanced security features like Active Directory integration, end-to-end encryption and role-based permissions. These features keep intruders from being able to access laboratory data.
A traditional, non-SaaS LIMS falls short in security. With a traditional product, security is in the hands of the company deploying the LIMS; they incur additional costs as they work to protect their information from threats ranging from viruses through intruders. In an attempt to offset costs, these companies will often offshore to application and hardware management teams overseas; unfortunately, this effectively means sharing all database passwords with external parties who often have high staff turnovers and whose remote nature leads to an inability for effective oversight, potentially putting the security of a company's entire data at risk.
7. Reliable service
LabWare SaaS LIMS include a 99.5% availability guarantee, meaning that laboratory members have continuous access to the platform around-the-clock. The SaaS build is designed and optimized to fit LabWare's operations and to optimize the user experience. Each laboratory user gets access to a responsible, reliable interface that keeps data readily available for authorized users.
8. 24/7 support
Laboratories run around the clock, which dictates the level of availability needed from tech support in order to have a seamless user experience. LabWare SaaS LIMS bears a dedicated support team, available at all times to answer questions and troubleshoot issues that arise. Customers have a single point of contact, regardless of whether the issue is related to the infrastructure or the solution, to help ensure issues are resolved expeditiously. Additionally, proactive monitoring is used to detect and resolve problems before they occur.
9. Accessible on any browser anywhere
Unlike LIMS hosted in-house, SaaS LIMS offers the advantage of not requiring a firewall or operating on a VPN. All that is needed for entry into a SaaS LIMS is a username and password.
LabWare SaaS LIMS actually offers an easy-to-use, responsive solution that can be accessed on browsers via computers as well mobile devices. Acceptable inputs span the entire range from keyboards through touch screens, and even scanned barcodes.
10. Data integrity compliance
The FDA and MHRA have increasing expectations, regulations and guidance for data integrity, which form the guidelines around the LabWare LIMS solution. The way data is collected and reported through LabWare SaaS products ensures compliance with the most up-to-date regulatory requirements, including 21 CFR Part 11 and the latest FDA and MHRA Regulatory Data Integrity guidance.
The fact that, following testing to ensure adherence to the highest standards, LabWare solutions are successfully used in thousands of regulated laboratories worldwide is a testament to the level of regulatory excellence at which they perform.
This compliance can withstand an audit. The data is organized to readily provide transparency and audit trails should an inspection occur. Audit trailing is thorough and occurs automatically exhibiting far more control than any paper system; gone are the days of depending on scientists to consistently cross out and initial changes with reasons within their notebooks.
11. Workflow automation
When laboratory members are trained on processes and best practices, the goal is that they will be compliant, efficient and measurable. The associated laboratory processes are built in ways that intend to reinforce these best practices, but they still rely on human effort—and potentially human error. Automating the workflows removes this concern by ensuring that all necessary tracking is completed and that all workflows defined within the LIMS promote efficiency and are adhered to in a compliant manner.
12. Availability of data and reporting
A SaaS LIMS solution keeps laboratory data, analysis, and reporting readily available for all authorized laboratory members. This creates a library of historical data, from which trend data can be analyzed across multiple batches. From contextualizing lab results based on knowledge of sample storage conditions or product changes, to optimizing laboratory data stewardship to maintain a high-quality data repository, lab data libraries create the opportunity for stronger decision-making.
13. Improved visibility and efficiency
Higher efficiency results when all authorized lab members have access to samples and data. With LIMS, everyone can understand the volume and status of laboratory workloads, and track key performance indicators (KPIs) tied to lab performance. And with the ability to assign portions of the workload to labs or individuals—and directly share critical data associated with these assignments—delegation, monitoring, and workload management becomes feasible.
14. Improves quality
Because of the automated workflows and data collection controls built in, LIMS systems provide built-in quality control and quality assurance measures.
LIMS reduces the potential influence of human error by ensuring the correct testing is followed, the appropriate process is followed down to the smallest detail, and that the need for inputs like typing transcription are removed. By automating challenges against specifications, LIMS ensures that there is maximum reliability.
Additionally, the data contained within the LIMS grants a birds' eye view of sample integrity so that questionable results can immediately be identified.
15. Size, longevity, and reputation
LabWare SaaS LIMS is the industry leader in laboratory management solutions. This reputation comes from a proven track record of building robust platforms, adhering to regulatory guidelines, and reinforcing best practices to optimize laboratory function.
Given its staying power, LabWare can be safely depended on and integrated into a laboratory's operations. While an in-house solution might seem tempting and, in some cases, appropriate for the customization and configuration options, it lacks not only in the upfront validation, but can also leave a small laboratory vulnerable to staff departures, requiring internal expertise to maintain the hardware and software on an ongoing basis. For small laboratories, when a single individual in charge of managing the in-house solutions is absent or leaves, it can result in laboratory operations coming to a screeching halt should any issues occur.
Instead, the LabWare SaaS LIMS may be relied upon, fully-supported and validated to meet the most up-to-date regulatory guidelines.
There are many benefits of implementing a cloud-based LIMS in a laboratory. It's important to work with an experienced, knowledgeable partner that can help ensure your system meets industry best practices, is cost-appropriate and supported by experts, so that you can focus on your business.