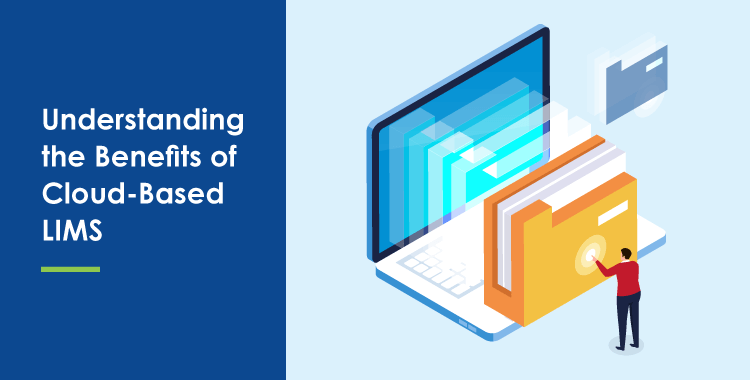 In the next five years, the lab information management system (LIMS) market is projected to reach approximately $2.22 billion. One of the most consistent sectors of growth is the cloud-based LIMS segment, which continues to grow each year.
Implementing a LIMS is a critical way in helping laboratory facilities track samples from receipt through storage and usage. A LIMS can save lab staff time by automatically documenting more features about each sample than an individual could and provides resources for automating sample testing and batch control. It addresses human error by helping to avoid penalties with a trail of data that can withstand auditing to the most rigorous of industry standards.
But there are special benefits and considerations that come with the implementation of a cloud-based LIMS in particular.
What is a Cloud-Based LIMS?
One key consideration that comes with selecting a LIMS is determining where the data will be stored, with the choices usually either between on-premises or in the cloud. The growing trend has been to leverage cloud storage primarily because it grants access to the data from multiple systems across multiple locations. By setting up user profiles for each lab member to log in, combined with authentication settings to maximize security, each laboratory can provide its members real-time convenience and keep data safe.
There are several other significant benefits of a cloud-based LIMS:
Faster implementation time - Implementation of an off-the-shelf LIMS configuration is the quickest because the system workflows are already defined and have already undergone validation. If further customizations are made to align the LIMS with specific business processes, there will be validation steps to take, which will extend the time to implementation.
Reduced need for internal IT support - The implementation comes with systems in place for the maintenance of daily processes, resulting in less of a need for hands-on IT support.
Automatic updates - These cloud-based LIMS implementations are set to automatically update infrastructure, saving organizations additional steps and potential blockers to their operations.
High security - A cloud-based LIMS solution comes with built-in data encryption, and is designed to follow data integrity regulations. In these instances, it is the vendor's responsibility—as part of the solution they are selling—to account for security, an appropriate level of user authentication, and log-in controls.
There are two key types of cloud-based LIMS solutions available: Platform-as-a-Service (PaaS), and Software-as-a-Service (SaaS).
Benefits of Platform-as-a-Service LIMS
With a platform-as-a-service (PaaS) implementation, individual laboratories have total control and power over the optimization of everything from internal processes through configuration, without having to carry the burden of infrastructure and daily maintenance that an on-premise LIMS platform can bring.
If an organization wishes to use their own cloud hosting service with infrastructure-as-a-service, the PaaS deployment model can still be applied but risks are introduced that hardware may not be aligned or kept up to standards needed to efficiently support usage of the Platform.
With PaaS, even the administration of daily system services to maintain the application can be included, relieving the organization of infrastructure and daily maintenance burdens. Both PaaS and SaaS stem from one main goal, which is to allow laboratories to focus on their science instead of worrying about computing details. In fact, PaaS can be configured to align with the exact processes of the laboratory, no matter how complex the functionality is.
Once a PaaS has been deployed, the laboratory validates it to confirm it aligns with regular laboratory processes; due to any customization, if not deployed as an off-the-shelf solution it must be validated for the particular instance in which it is deployed. Because each laboratory account owner has complete control over the system, they direct which enhancements are to be made, when they are deployed, and how exactly the projects are run. Changes remain completely in the control of the individual customer.
Although customization allows for the PaaS LIMS to align perfectly with laboratory workflows, there is one potential downside: paying for platform validations, any desired upgrades, and for any other special projects to enhance the LIMS can create additional ongoing costs.
Benefits of Software-as-a-Service LIMS
A good SaaS solution is fundamentally different from a PaaS solution in more ways than the change in licensing model.
A SaaS LIMS offers laboratories the entire solution, including both infrastructure and day-to-day maintenance, validated according to industry best practices. It comes pre-configured to match laboratory processes close enough so that it can be implemented quickly. In fact, a SaaS LIMS is hands-down the fastest to deploy. With the potential for a 30-day go-live, it can be very helpful for any laboratories trying to address concerns flagged during an audit.
Because it is implemented out-of-the-box, a SaaS LIMS can lead directly to major cost savings. There is no need to manage validations, upgrades, or projects, and upgrades are included as part of the SaaS subscription.
SaaS Benefits

Industry best practices
30-day go live
Included upgrades
Validated
Subscription-based
Managed system and infrastructure
Access anywhere
Option to move to PaaS or self-hosted later
Can be entirely OPEX

PaaS Benefits

Configured to meet lab's exact needs
Ability to support complex functionality
Changes in control of the customer
Subscription based
Managed Infrastructure
Option for Managed System
Access anywhere
Changes in control of customer
No upfront license fees
Implementation CAPEX
Subscriptions OPEX

Self-Hosted Benefits

Configured to meet customers exact needs
Ability to support complex functionality
Changes in control of the customer
Option for Managed System
Maintenance OPEX
Infrastructure, implementation and license cost CAPEX
Why Implement or Switch to Cloud-Based LIMS?
Regardless of whether or not they already have a LIMS, laboratories benefit from the implementation of a cloud-based LIMS. However, depending on whether they already have a system in place, they will experience slightly different sets of benefits.
A laboratory without a LIMS is likely looking for a fast, cost-effective way to get up-and-running with a LIMS. Many of these labs will keep it simple and opt for an out-of-the-box SaaS solution, because they are the quickest and easiest to deploy. And because the laboratory staff will be so focused on getting accustomed to having a LIMS in the first place, keeping the implementation as simple as possible helps ensure a smooth implementation and training process.
A laboratory using a self-hosted LIMS will approach this selection and implementation of a cloud-based LIMS a bit differently because they will be trying to resolve specific problems. One common issue is that the lab's data is getting too cumbersome or costly to manage on local systems, and the lab manager would focus on the science conducted instead of managing the technical aspects of their system. It is less efficient to lab operations if internal staff members are spending more time on on-premise maintenance than on actual lab processes; in fact, it cuts into one of the biggest incentives for a LIMS implementation to begin with—time savings. Another situation that may require a cloud-based LIMS is that the lab's needs are expanding and need to leverage data access points from multiple locations.
With its heightened security, options for management of daily processes and maintenance, reduced strain on internal IT, and range of customization options and validation extents, a cloud-based LIMS solution is a smooth fit for most laboratories. It comes as no surprise that it is the fastest growing segment of the LIMS market.