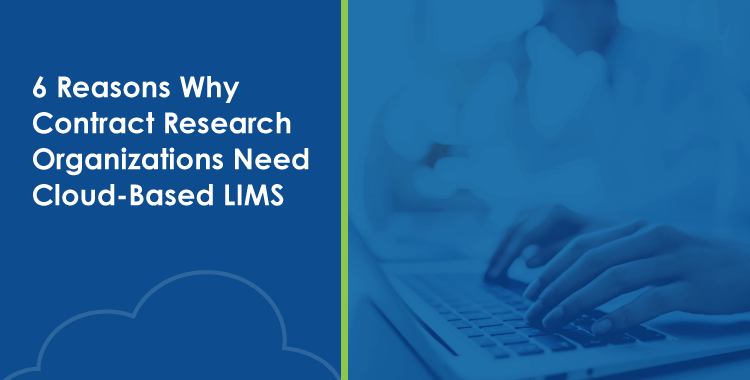 Scientific industries are challenged to keep pace with global demands for safe and effective pharmaceuticals, chemicals, medical devices and other scientific advances.
Contract research organizations (CROs) have become progressively more common in meeting laboratory outsourcing needs. In fact, they are now critical collaborators in assuring safety and effectiveness in a variety of scientific developments and innovations.
What is a Contract Research Organization (CRO)?
Although many CROs partner with smaller businesses that don't have their own labs, some provide specific laboratory functions for large pharmaceutical companies and research institutions. CROs work with many types of organizations, including foundations, universities, and public entities. These organizations benefit from the partnership through flexible resourcing and significant decreases in cost.
The ultimate undertaking for the high-functioning CRO is how to accommodate such a broad range of customers. Many are finding solutions by using a cloud based laboratory information management system (LIMS).
There are four major functions for which CROs typically use LIMS:
Finished product release
Raw material release
Stability testing
Environmental monitoring
Many lab managers and other CRO leaders are now leveraging innovations in cloud-based LIMS technology to complete these major functions.
Here are six ways in which CROs (and their customers) benefit from using a cloud-based or software-as-a-service LIMS.
Ability to Control for a Variety of Processes
Because CROs have numerous clients, any LIMS would require extensive adaptability. For example, different external organizations undoubtedly have varied expectations regarding how they want their samples processed. A cloud-based LIMS would introduce an over-arching level of control in accommodating these differing needs.
Even though an audit by regulators could occur, an external audit from a client can really put the organization under scrutiny. Unlike an internal audit in which the CRO can identify a problem, obtain monetary and leadership support, and implement a fix, a client's audit has a major impact on the organization's ability to attract and retain customers. The client will determine future business with the CRO based on whether specifications and requirements can be met.
Understandably, customers want to ensure appropriate sample management and reliable data is being generated with the right controls. With a cloud-based LIMS, the CRO provides assurance that they have tight control of any and all customer-specific processes.
Reporting Flexibility
Organizations will have different reporting requirements based on different industry regulatory standards, and clients want their results to be reported in different ways. A LIMS solution can efficiently meet these differing and changing reporting needs. Additionally, the task of running reports comes smoothly and on demand, eliminating manual transcriptions. LIMS also allows consistent tracking of key performance indicators (KPIs) that can be shared with external sources, further increasing client confidence in a CRO's controlled processes.
Types and levels of system interface may also play into the decision-making process of choosing the most appropriate LIMS. Lab results and other processes need to be integrated with a customer's internal system—including home access, something which is becoming more common as remote work increases globally. Using a SaaS LIMS with multiple secure access points can be valuable—Internet access and a password is all that is required to connect.
System-to-system communication requires a highly sophisticated LIMS. The best option for maximum compatibility for high-functioning CROs with multiple customers is to use a LIMS that is compatible or even the same system as the client. For this reason, selecting from one of the most successful providers can provide integration advantages.
Easy Adoption
Of all the cloud-based LIMS options for CROs, software-as-a-service (SaaS) platforms are easiest to adopt. CROs are often smaller laboratories and are focused on sample throughput, not IT systems. A SaaS LIMS takes away the need for a dedicated IT team; it's included in the subscription service.
Without a cloud-based LIMS, continuously changing customer needs and CRO growth greatly increase IT demands of the CRO team, resulting in a drain of human and financial resources. SaaS LIMS subscriptions offer around-the-clock IT support, including updates, patches, and management of system issues. Your LIMS provider manages the technical aspects of your LIMS, leaving your organization to focus on its core responsibilities.
Launch with a SaaS LIMS is extremely smooth and expedient—it can be up and running in as little as 30 days. Training materials and expert support assures that your staff acquires the knowledge to effectively use the system.
Validation is Already Complete
Validation is a major concern when evaluating a LIMS system. With cloud-based LIMS, lab processes are validated prior to the beginning of the subscription. It has been confirmed through rigorous testing that the software can indeed do what it says it will and conform to the necessary regulatory requirements. Vendors should ensure their testing process assures high levels of confidence in the system's validation.
Because of the variety of their clients, CRO managers do not want to purchase a system that requires a lot of customization and maintenance. An out-of-the-box configuration with a SaaS LIMS is an efficient way to meet the requirements of the CRO and to provide high-quality services to multiple clients. The SaaS is a highly-functional cloud based LIMS that can deal successfully with customer-to-customer variations.
Cost-Effective for Smaller Labs
When trying to determine the total cost of a LIMS, a smaller CRO may be better off with a cloud-based option. This is due to several advantages, including but not limited to: initial pricing, speed of implementation, decreased IT resources, and less need for customization.
Because a cloud-based LIMS is provided through a subscription model, the business can account for the system as an operational expense. This differs from on-premise LIMS, which often require a hefty initial upfront cost and are handled as capital expenditures. Operational expenses are much easier for smaller CROs to manage; periodic fees are due as revenues come in and are generally smaller expenses than the huge initial expense of an on-premise LIMS.
With cloud-based LIMS, there is no additional computer hardware installed, all that's required is Internet access. So, in many cases, launch can occur merely within a few weeks. Furthermore because cloud-based LIMS are adherent to regulatory requirements out of the box, there is no need to spend time and resources in customization.
Quick to Implement
Lab managers within a CRO may be hesitant to make a change to their LIMS because they can't afford the downtime to achieve a seamless transition. Whether compelled by a failed audit or a business decision, a cloud-based LIMS is an efficient path to success. With all regulatory requirements, validations, and automations in place, lag time is minimal.
Although change can cause some transition issues amongst the most cohesive of employee teams, a cloud-based LIMS solution is designed to minimize such difficulties. Templates are standardized, so employees don't get frustrated with inconsistencies in documentation.
As a fast-paced and high functioning CRO, your major concern is superior deliverables and client satisfaction. You want to provide excellent service to all clients, whether they are in Big Pharma or for a university research institution. There are numerous advantages to adopting a cloud-based LIMS to meet the needs of multiple customers.
Raw materials and finished product release, stability testing, and environmental monitoring are completed smoothly and efficiently by leveraging a cloud-based LIMS. Ease of implementation, cost-effectiveness, flexibility of reporting, and adherence to regulation and other best practices, present a perfect fit for the burgeoning CRO.
SaaS platforms are attractive to CROs because it allows maximum focus on the efficiency of business operations rather than IT capabilities. Building a client base and improving your lab's processes can now easily move to the forefront of staff time and resources. The result? The entire CRO team works together to expand their reach, capturing wider local and global industry markets.