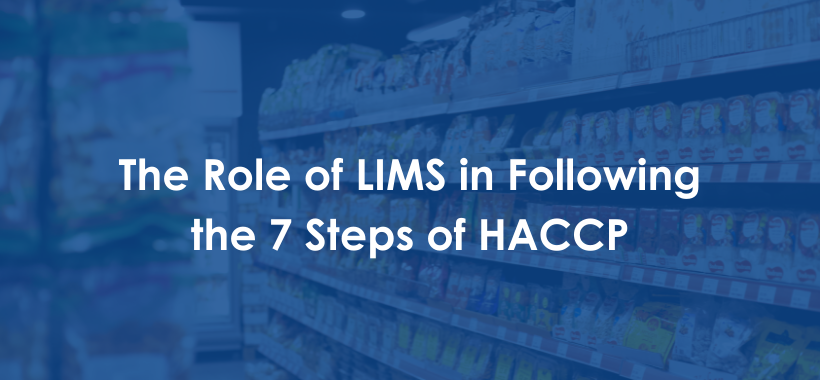 On a daily basis, lab managers face a daunting amount of data they need in order to maintain the integrity of their quality program. This challenge is especially true within the food and beverage industry, where product safety is dependent on timely and accurate laboratory testing. Fortunately there is a well-defined process to ensure that the food being produced and shipped from a company is safe and contains no contaminants.
It is the seven-step process of Hazard Analysis Critical Control Point (HACCP) that the quality team—and in particular, lab managers—rely on each day. They are the gatekeepers of food preservation, helping keep us all safe from foodborne illness. The HACCP process makes sure that all released products are labeled correctly and that the company and consumer are on the same page of trust and transparency when it comes to ingredients. The smallest oversight could spell ruin or, at the very least, revenue loss for both consumers and a company.
Sampling and testing are core elements of HACCP. All food companies either outsource some or all of these processes by using a commercial laboratory service or by company-operated labs. Both in-house and outsourced testing operations rely on data quality and that data is best managed in a LIMS designed for that purpose. At the end of the day, this means that lab managers can easily integrate analytical and quality control processes and workflows into one seamless management system.
Let's take a look at the role LIMS can play for labs following each of the seven steps of HACCP.
#1 Analyze Hazards
During this first step, labs are analyzing potential hazards associated with food and measuring to control any hazards that are identified. These include potential hazards in raw materials such as mercury in fish, pesticides in grain, or contamination in meat such as mad cow disease. They also include steps in the process that can potentially introduce pathogens such as bacterial growth. LIMS makes these plans more effective by providing past data and enabling lab managers to identify and analyze potential hazards quicker and more accurately, and set up appropriate sample plans. It is an ongoing process of continuous analysis and improvement.
#2 Identify Critical Control Points
These control points in the second step of HACCP are the points in the food chain at which the potential hazard or contaminant can be controlled or eliminated. A LIMS gives lab managers a better vision for continuous data analysis to determine where the lab might find issues and adjust the sampling and testing program accordingly.
#3 Establish Preventive Measures With Critical Limits
Quality Teams define and manage critical limits for each control point. Each CCP will have one or more control measures to assure that the identified hazards are prevented, eliminated, or reduced to acceptable levels. Each control measure has one or more associated critical limits. Critical limits may be based upon factors such as moisture level, water activity, pH, titratable acidity, salt concentration, viscosity, or sensory information such as aroma and visual appearance. Critical limits must be scientifically based. For each CCP, there is at least one criterion for food safety that is to be met. LIMS can both help define Critical Limits based on data analysis as well as manage them through defined sampling programs, tests and specifications.
#4 Develop Procedures to Monitor the Critical Control Points
The LIMS shows opportunities for continuous improvement by identifying critical control points and applying them to a sample plan. For example, suppose a lab sees an increase in identifying contaminants and hazards during this step in the process. In that case, LIMS can help support vector sampling to determine contamination sources faster as well as modify plans and sampling frequency to align with actual experience.
#5 Establish Corrective Actions To Be Taken
When monitoring shows that a critical limit is exceeded, HACCP requires lab managers to create an investigation to document the event and the correlating corrective action(s). A high-quality LIMS provides a data record of these incidents and all related data. These records are then available for future audits and to support the process of continuous improvement.
#6 Verify That the System Is Working Properly
Good automated laboratory practices (GALP) help ensure processes occur on time and every time in a lab. A LIMS can help provide insight into crucial components of lab operations such as whether trained technicians are performing procedures correctly, valid materials like media and reagents are being used, instrumentation is qualified for purpose, and appropriately defined reviews are performed before the data is released.
#7 Establish Effective Record-Keeping to Document the HACCP System
This final step of HACCP includes recording hazards and their control methods. This recording-keeping also documents the monitoring of safety requirements and the actions taken to correct potential problems that were identified. Lab managers can use a LIMS to track all of the data from each step. For past cases, it can show success in resolution and provide the ability to query and trend the data for continuous improvement in the process.
Utilizing a LIMS during each of these seven steps of HACCP has been proven to bring additional control, consistency, and compliance to food safety, enabling the standardization of processes across its laboratories.