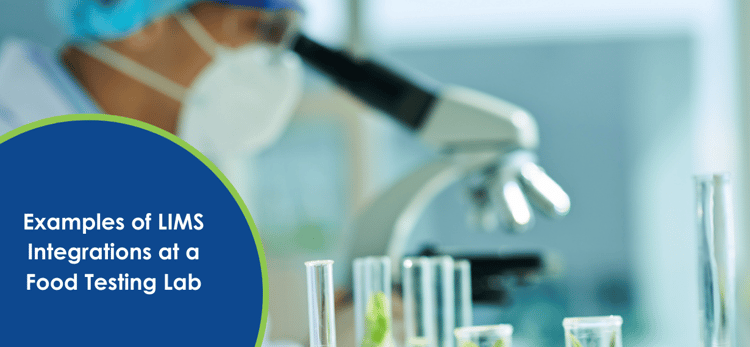 Your food testing lab enables your business to continually keep running and satisfy your consumers. From adequately tracking samples, tests and results to conducting detailed oversight of your operational workflows, you must operate efficiently while ensuring that you comply with regulatory and good quality practices related to your products or services.
With crucial issues around food quality and safety, your primary priority is maintaining industry best practices while delivering top quality.
A laboratory information management system (LIMS) facilitates your laboratory's operations according to your needs. Whether staying in compliance with the regulatory standards or tracking your workflow from raw materials to finished product, a LIMS has vital features that support your laboratory management, increasing capacity and efficiency.
Core Features of a LIMS That Enable Better Lab Management
Following the demands in food quality and safety, the features of a LIMS have evolved to adequately support the day-to-day operations of a food and beverages testing lab, evolving with the lab's needs.
A modern LIMS—which started as a straightforward sample management tool—can integrate seamlessly with laboratory applications to handle tasks and resource planning operations effectively from start to finish.
Essential features of a LIMS that improve the maintenance and functionality of food testing labs include:
Automation
A LIMS significantly enhances the productivity of your food testing lab environment by eliminating failed experiments or reassessments due to human error. With automation, you can overcome tedious processes like paper record-keeping and avoid wasting time associated with performing calculations or managing other data records externally
As profitable as growth is for your lab, it comes with increased workload and a higher demand for efficiency, accuracy, and delivery. When your lab work is scaling up, manually managing processes can result in unnecessary expenses and negatively impact your business. A LIMS automates processes, such as querying records of historical analysis for tracking major key performance indicators, or data entry of batch sales, enabling you to maintain an accurate and flexible architecture.
Documentation
This feature plays a vital role in managing your food and beverage testing lab. From assessing records to past tests to spotting key trends in data analysis to taking descriptive notes of current processes for future references, a LIMS provides accurate and reliable documentation.
In addition to detailed reporting, a LIMS enables you to measure your targeted metrics to make data-driven decisions towards achieving your business's objectives. With a quick search query, you can retrieve data on samples such as their batch, product, and test results and the employee responsible for handling them. Such accurate recording enables you to avoid oversight in your processes and easily track your workflows.
Compliance
Regardless of the type of audit, organizing your records without the right tool can be challenging and may result in being liable to penalties. Internal audits are valuable, as their principal purpose is to understand your food testing methods and how they comply with the guidelines from regulatory and industry quality bodies. When you correctly perform an internal audit, you can get critical insights on how you can improve your processes and better respond to external audits.
External audits from regulatory bodies or third-party agencies can be insightful; however, in cases where some of your processes do not meet the guidelines according to industry standards, there is likely a negative impact on your business - from a loss of revenue to a potential penalty.. A LIMS promotes quality testing processes and provides detailed records of your samples from start to finish. Such detailed data enables you to prove the integrity of your testing processes and stay compliant.
How LIMS Integrates With Your Food Testing Lab To Handle Robust Workflows
New software integration comes with benefits, from updating your system to boosting your business's productivity levels. When your current system's integration with software is rigid, you focus on workarounds rather than the solutions you would like to address.
A LIMS that can easily integrate with some of your most common planning and reporting tools can accelerate the time to value.
Some examples of LIMS integrations at a food testing lab are:
SAP
LIMS integrates with SAP QM to improve your food testing workflows. With higher demand, you require more robust workflows that can handle all your samples across points, such as testing at instrument workstations effectively while keeping accurate records from start to finish. Such a high level of integration is independent of customers and ensures data integrity.
Other ERPs
The integration with LIMS and ERPs enables you to increase the efficiency of your resources by reducing the amount of time used in data entry and calculation of results. The ERP schedules production, target market, and other factors required in manufacturing the product. LIMS creates the samples required for each specific lot/batch, the tests and specifications for its intended purpose, all processes and data around the execution of those tests, and quality data authorization. Integrating with LIMS enhances your turnaround time and enables you to analyze massive amounts of quality data and link that data to your ERP records.
Instrument Data Systems
You can eliminate manual labor as LIMS integrates effortlessly with food lab instruments such as chromatography data systems, automating repetitive functions. LIMS can also integrate across platforms between the food manufacturer and contract lab with a secure electronic data delivery system that makes up a unified database to improve collaboration.
The ability to seamlessly integrate your LIMS with individual instruments, instrument data systems, and other software applications ensures an efficient, single source of the truth when it comes to lab data.