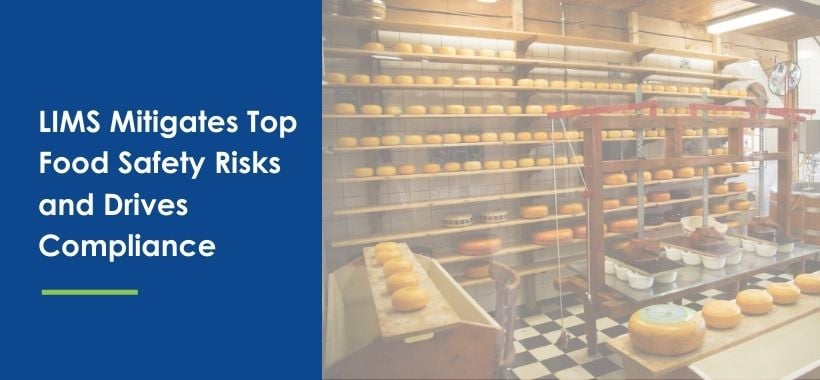 Maintaining regulatory compliance is crucial to success in the food and beverage industry. Failure to follow guidelines may result in consequences, ranging from financial loss and operational downtime to complete shutdown.
To mitigate these consequences, manufacturers must address the stipulations of the governing bodies regulating food and beverage processing and distribution. Here, we take a look at the high cost of non-compliance in the industry and how you can turn the tides in your favor using a Laboratory Information Management System (LIMS).
Top Risks for Food and Beverage Manufacturers
There are many consequences of non-compliance with food safety standards. For starters, it is incredibly costly for companies to recall their products, revamp their processes, and deal with negative publicity. More importantly, inadequate food safety bears a high cost on human lives and overall health.
Here are the top risks that food and beverage manufacturers face:
Product Recalls
In the manufacturing industry, product recalls are not at all uncommon. The U.S. Food and Drug Administration (FDA) recalls food and beverage products for many reasons, including failure to mention allergens on labels, packaging errors, and even contamination with non-food materials. Recalls are not without negative consequences. Here are some of them:
Cost of Recalled Goods
When food or beverages are mislabeled or contaminated, companies must undergo an exhaustive recall process. This process disrupts production schedules, exhausts valuable resources, and diminishes profits.
Manual Removal From Shelves
Though most companies have recall procedures in place, it's not enough to mitigate the significant impact on operations. One such effect is getting a dedicated workforce to remove mislabeled or contaminated products from retail stores manually.
Refunding Supermarkets and Loss of Revenue
Food companies usually manage and assume the cost for product recalls. They must also refund retailers for any upfront payment they may have received for the defective products, resulting in a loss of potential revenue for the company involved.
Loss of Consumer Confidence
Food recalls can cost companies significant money in short-term measurable losses.
The long-term effects of a product recall on consumer relationships may prove even more costly, as some consumers may choose to patronize a direct competitor instead.
Damaged Brand Reputation
Beyond the health risks and monetary costs, product recalls can generate negative publicity for the food manufacturer. Sometimes this can have lasting, irreversible effects on a company's brand, as they may become widely associated with that incident.
Legal Action
You never want to put people's lives in danger due to food mislabeling or contamination. Food and beverage non-compliance can result in sickness or even death because of an allergen omission on food labels or infiltration with harmful substances. The results are devastating losses and lengthy, costly lawsuits.
Plant Shutdown
Produce infections draw big lawsuits against food and beverage companies, which is quite damning. However, nothing comes close to a shutdown. Regulatory agencies like the FDA not only warn violators of fines but can also seize, suspend, or revoke licenses and issue criminal sanctions.
For example, if a product is capable of causing severe health consequences or death to humans or animals, the manufacturing facility may be suspended. Bear in mind that a suspended license means the manufacturer may no longer sell food produced in that facility..
Contract Labs Share in the Losses
The importance of food safety to human life is immeasurable. After all, food safety problems are responsible for many preventable diseases worldwide. Reports suggest that one in 10 people worldwide suffer from foodborne illnesses and approximately 420,000 people die yearly from eating contaminated food. The FDA requires specific food testing, including environmental monitoring for potential pathogens or contaminants, to help determine safety. Private laboratories perform most of the analysis that conforms to various standards and is subject to multiple levels of oversight.
So, it's no surprise that food non-compliance accidents have consequences on both manufacturers and contract labs charged with ensuring the quality and safety of food production facilities.
How LIMS Promotes Compliance in Your Food and Beverage Testing Laboratory
Food testing labs perform the scientific analysis of various food products and their components before making them available for public consumption. A laboratory information management system (LIMS) is commonplace in many food and beverage manufacturing and contract testing labs. From providing analytical data on product quality to preparing critical research and development information, here are a few ways LIMS can help your food or beverage testing laboratory meet compliance.
Ensuring Food Quality Meets Industry Standards
Foodborne illnesses continue to make headlines. They may be due to bacterial contamination of perishable foods, adulteration of ingredients for economic gains, or chemical contamination from increased pesticide use. Whatever the root causes, each food-related mishap reminds us of the importance of safeguarding food quality.
Food safety requires food quality testing against set standards. ISO/IEC 17025 covers various topics, including standardization of test methods for consistency, laboratory organization, management structure, document control, and staff competencies.
Food safety testing laboratories need to implement processes and systems to comply with these standards. A powerful LIMS platform that integrates into existing workflows provides an ideal structure for implementing and demonstrating compliance to these stringent requirements. It helps maintain a clear record of samples, test results, and reports, and documents the date of sampling, time of result entry and exit, details of how the reports were made, and by whom.
Monitoring Food Safety
It's one thing to detect foodborne contamination, and it's another to prevent it. The FDA's Food Safety Modernization Act (FSMA) is moving to include more prevention.
Contamination testing and result monitoring at critical locations in the manufacturing process and supply chain can prevent infection before it occurs, and LIMS has a significant role in this process. LIMS makes it possible to implement data management strategies that increase security and data availability, eliminate manual data assembly for analysis and audit, and make data more useful with easy retrieval and visibility.
Other Ways LIMS Can Help Food Safety Compliance
LIMS can also promote compliance through testing for product shelf life, scheduling and monitoring all testing, efficiently and accurately capturing results from instruments, minimizing product losses, tracing raw materials to finished product batches in case of a recall, and maintaining consistent environmental monitoring.
How LabWare LIMS Helps With Food and Beverage Compliance Regulations
We develop LabWare LIMS with best practices and principles following GLP, GALP, cGMP, ISO 9001:2000, FDA, and MHRA data integrity guidelines. We know that labs have established workflows and lab managers have various work styles. That's why our solution allows for centrally managed configurations and seamlessly integrates with your laboratory workflow to help you improve your decision-making process. It will let you know if the quality of your product meets the set standards and record that data for future inspection.