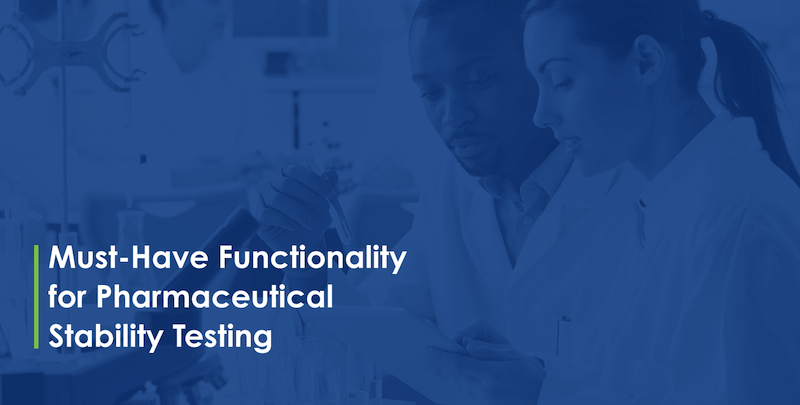 As you work through validating the length of time over which your pharmaceutical products retain their quality and potency, you need to be able to trust in the accuracy and reliability of your testing, data, and documentation.
The core functionality of your LIMS should be trusted with executing stability management, while also integrating well with all the other processes handled by the LIMS. Stability management does not live in a silo in the real world; why should it live in a silo in laboratory processes?
Sample Management: A Pillar for Successful Stability Testing
Careful regard for each individual sample is a core principle behind excellent outcomes in stability testing. The vulnerability that tends to trip up laboratories that fail audits or see poor results in their stability testing comes with scale. It can become easy enough to handle a few individual samples, but properly and consistently managing samples at scale often proves to be exceptionally challenging.
Because of the volume of samples to be handled, the length of time over which they must be monitored, the potential for multiple storage locations and handlers, as well as other potential variables at play, sample management that starts at the very beginning of the sample lifecycle is vital.
Stability testing must take into account sample and storage management, which often includes managing different levels of storage: rooms, racks, shelves, and so forth. The careful documentation of storage conditions and history is critical; a LIMS helps automate this monitoring and documentation, ensuring the reliability of the data collected.
When it comes to sample labeling, the length of time of manual labeling could compromise their integrity. Placement of samples on the scale of five to ten thousand into a stability chamber requires that all samples be accurately labeled with unique IDs, and then tracked throughout their lifecycle. Using a LIMS can help automate this tracking and documentation, not only saving time and increasing fidelity, but also allowing room for more frequent testing and quality control.
Sample reconciliation then becomes easier, including understanding the entire history of usage, storage, and location for each and every sample. This guarantees laboratories full visualization and traceability across all samples and sample testing. This is an excellent foundation for stability testing.
Using a LIMS for Pharmaceutical Stability Testing
Effective stability management taps into multiple processes built into a LIMS. In order to perform stability testing and management well, a laboratory needs to have thorough sample management, consistent product specification editing capabilities, well-managed and documented approval and routing capabilities, and the capacity for detailed reporting and trend monitoring.
Using LabWare's industry-leading LIMS for stability management ensures every aspect of each sample's receipt, storage, usage, and disposal is covered. In fact, this is a core differentiator for LabWare versus niche stability tools, which lack features such as instrument integration, lot management, and product specification management.
Both custom and out-of-box LabWare implementations are available. The core LabWare LIMS is pre-validated and designed from an enterprise-level perspective. LabWare can integrate with the broadest range of laboratory systems, networks, instruments, and upstream or downstream processes. LabWare adheres to the guidelines and best practices outlined by regulatory bodies like the MHRA, FDA, and ICH.
No matter how big the laboratory, effective stability testing starts with exceptional sample management.
Study Management: Essential to Planning and Execution of Accurate Stability Testing
Sample management is an active part of day-to-day laboratory operations, but study management is vital to performing accurate product evaluations over time. This, in turn, is the parent process to all laboratory processes and sample processes associated with the stability testing of a product.
In fact, the LIMS where all the data and testing is centralized becomes the parent entity to all the samples and everything about the study. If you navigate over to the study, you can see all the related data stored in one spot. Having centralized analysis and visualizations makes it easier to spot both trends and deviations, a stark contrast to having data scattered throughout the lab.
Centralization and automation within a LIMS opens the door for more effective sample and study management. It ensures correct planning procedures upfront. The management of protocols and studies can be rendered more effective, filtering away human error and allowing for more detail via automation.
In addition, comprehensive scheduling for both sample studies and studies required by protocols become easier to fulfill, offering the opportunity for template protocols that make it easier to be consistent across applications.
Using a LIMS for Study Management
A LIMS should be built to handle a wide variety of protocol types. Experimental studies can help loosely understand how a product reacts; these tend to follow less stringent rules, as they are intended more for exploratory or proof-of-concept applications—not regulatory submissions. Regulated studies, on the other hand, may fall into standard study types, or else adhere to different, specialized models that require matrices or a bracketed approach. A separate subset of regulated studies exist to validate packaging or wraps, and are aptly named "packaging studies." Each of these studies may be customized to meet the required parameters, frequencies, and other characteristics desired by a particular laboratory.
A LIMS allows for automatic sample generation, control of storage, and documents sample usage. It links directly to laboratory workflows so that all users are aware of up-to-date sample volumes and even whether a sample shortage is approaching. Failures can set off flags to trigger retesting, but even ad hoc testing is automatically tracked and monitored.
Because the LIMS integrates both into sample storage and testing protocols, it can track all study changes. This includes the tracking of any protocol deviations as well as of any amendments to protocols, both of which are captured electronically and to higher sensitivities than if these were captured manually.
You can also use your LIMS for advanced reporting. Table generation is an automatic outcome for results, and the centralized collection of long-term data allows for shelf life predictions, comparisons, and easier spotting of trends. The capacity to use release data to represent t = 0 reduces manual transcription efforts.
Yet another critical capability of LIMS is the dashboards it contains for everything — from work management through KPIs. The system allows for quick views of sample statuses, testing, laboratory flow, and results. Visibility is possible throughout the sample creation process and pull processes to ensure that team alignment on sample availability is maximized, and allows for predictive capacity management. Your team can even view reports available throughout the lifetime of a study, whether within a study or even for cross-studies. This capability can assist tremendously with fundamental processes such as capacity planning, inventory, and product performance.
From tracking through trend reporting, using LIMS for the automation of fundamental laboratory processes allows for the most reliable and effective stability testing. But efficacy doesn't stop there, since a robust LIMS implementation integrates with tools, automates every aspect of sample documentation, and can handle any protocol. The enhanced laboratory processes that result are not only capable of more internal productivity, but are also predisposed towards the level of ironclad accountability that makes audits a breeze.