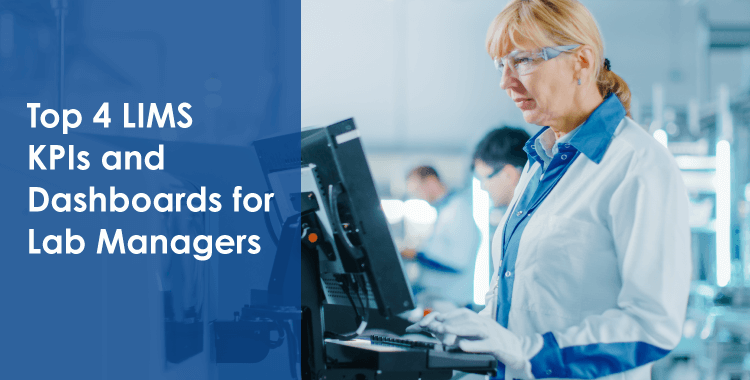 Key Performance Indicators (KPIs) are invaluable tools that measure a company's effectiveness. Each KPI "measures the goals of the business against the actual, quantifiable data over a specified period." Laboratory KPIs help your laboratory stay accountable toward the lab's goals. KPIs should be specifically set and customized to each laboratory. For example, the lab manager may want to evaluate the number of completed tests, as well as see those still under processing. These indicators serve as an index of how well the lab is running at any time, based on its set standards.
Because these performance metrics are customized to the way your lab works on a daily basis, they are one of the best ways to give a general overview of operations. It's easy to want to track every point of data that goes through your lab, but it will be more valuable to your lab to narrow your KPIs to a set of prioritized metrics. These KPIs can then be visualized in easy-to-digest dashboards that your team can reference at any time.
We review four KPIs that LabWare dashboards can visualize for lab managers.
Lab Testing Overview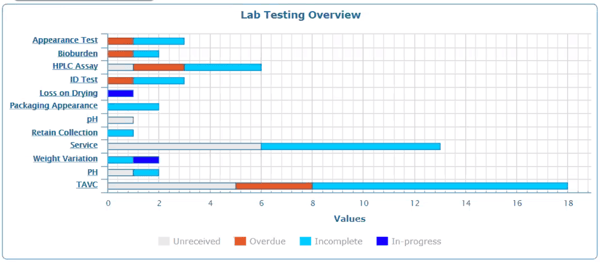 The lab testing dashboard helps the lab manager to stay informed about daily operations within the lab. It serves as a snapshot of the lab's status, including the number of ongoing and completed tests, status of tests, and the tests that remain to be done. LabWare's lab testing overview dashboard features easily digestible charts that make it simple to obtain and process important information.
The lab testing overview ultimately serves to keep the lab manager well-informed on all operations, but the advantages are not limited to one individual. Employees can benefit from viewing this dashboard to stay accountable. Analysts have the opportunity to review what work has been assigned to them and what still needs to be completed. In this way, individuals have a resource to help them stay productive and supervisors can stay up-to-date on the general workload.
Lot Management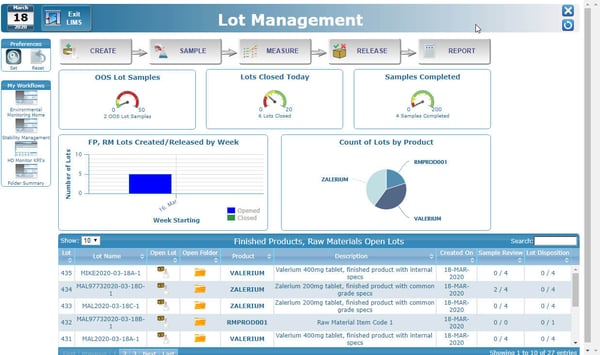 The lot management dashboard presents information about the lots of products your lab processes. Conveniently review the products your lab has finished, the status of product development and more. This system also records the number of samples you have and the amount that need reviewing. Additionally, lab managers can view the lot management dashboard to see which lots are ready to be released. Easy to navigate and understand, this dashboard encourages efficient operations within your lab.
Similarly to the lab testing overview dashboard, lab managers have the freedom to select what data appears on the dashboard gauges and charts. Even better, managers can create new measures based on almost any criteria and easily change what the dashboard looks like. The chosen gauges are linked to metrics that measure the current state of your lab in real time. Of course, KPIs are specific to each lab, so gauges are configurable based on what metrics matter to you and your team.
Stability Management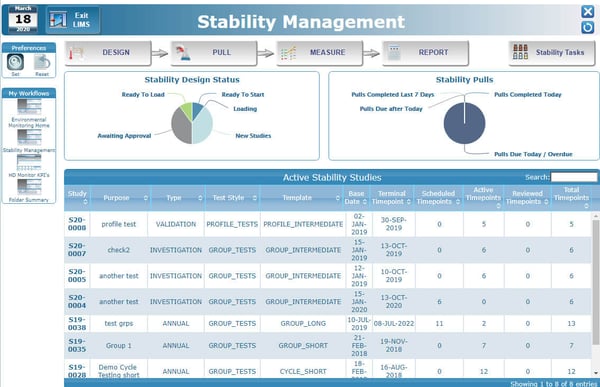 LabWare's stability management dashboard shows the status of active stability studies, including details about each test the lab has undergone. Once again, metrics can be edited to meet the needs of the user. Customizable graphs appear on the stability management dashboard and the design status of various studies can be reviewed, whether already approved or in creation. Details of recent and future stability pulls are displayed to aid in planning of work and identify upcoming peaks that may require additional effort, giving a customizable dashboard that gives an instant view of actual stability work being planned and underway in one place.
Quality Oversight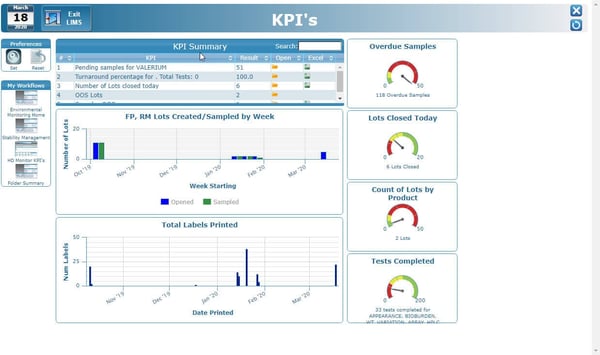 The quality oversight dashboard gives lab managers flexibility to tailor the dashboard to meet their needs. Among the numerous capabilities of this dashboard, users can review metrics and receive a report that can be conveniently exported into Excel. Equally useful is the ability to access a detailed summary of a lab's, departments or entire organization's current situation that keeps managers at all levels informed in real time.
At the top of the quality oversight dashboard is a list of the KPIs that should be specific to the lab, department or organization. Users will see a high-level number in the table that is produced based on what it is an organization wants to measure. The gauges on the right-hand side of the dashboard are useful visuals to quickly communicate the status of a metric. The acceptable (green) gauges and unacceptable (red) gauges can be adjusted. Number placements on the gauges can be customized to accommodate cases where a higher digit might indicate a less desirable outcome.
As with all the LabWare dashboards, the displayed values in the table, graphs and gauges are configurable on a per user basis, so a departmental head can monitor what's important at a higher level than a Lab Manager driving daily operations. Different Labs may decide on different metrics to represent their KPIs and therefore have a dashboard that is meaningful to that lab. The configuration and ease of measuring, displaying and ongoing monitoring of KPIs help laboratories and organizations drive change and performance using real data.
These four KPI dashboards by LabWare provide efficient access to lab data and give the data meaningful analysis and high visibility. Flexibility is one of LabWare's top priorities so that labs can easily measure their progress against their own defined goals. Considering that the LIMS industry has grown 4 percent in the last five years, and labs are constantly under pressure to deliver more with less, LabWare is ready to serve the growing needs of all laboratories'. To learn more about how LabWare can assist you in streamlining your lab's data organization and analysis, request more information.