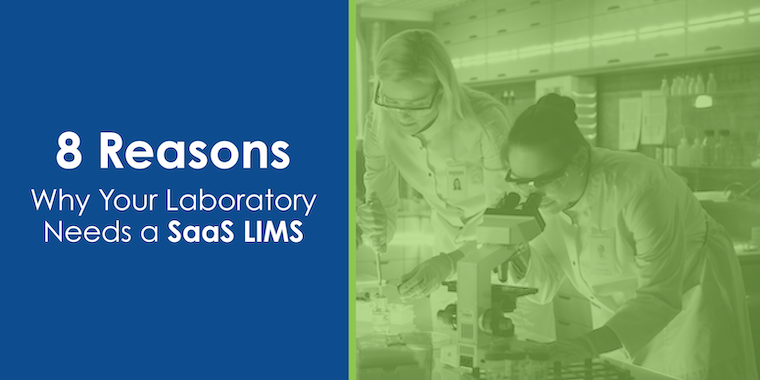 There are hundreds or even thousands of moving parts and data points in a lab environment, making it vital to ensure you have the right tools in place to identify and place your resources. Gaining full visibility of your workflow has never been more important, particularly as compliance requirements evolve and require greater control and transparency throughout your lab.
When you work with a fully-functional cloud-based LIMS (Laboratory Information Management System), you are gaining the peace of mind knowing that your metadata, workflows, samples, results and instruments are completely organized at all times. Since these important platforms center around the need to track samples, collect and report data, your software-as-a-service (SaaS) LIMS platform provides a flexible and extensible solution to presenting data in a clear and cohesive fashion for a variety of different audiences.
Here are eight top reasons to invest in a LIMS solution to help reduce inconsistencies, improve efficiencies and deliver results within your laboratory environment.
1. Improve Resource Utilization
Space and money are always in short supply in a laboratory environment, making it vital to ensure that you are taking full advantage of all the resources available to your teams. With a proactive LIMS, you are able to confidently manage everything, from staff assignments to equipment within a centralized platform.
It becomes significantly easier to fulfill any gaps in coverage or justify the need for new equipment when you are able to easily determine how often different instruments are used within the laboratory, and easier to manage consumables when you understand the frequency of different tests.
2. Provide Greater Backup and Disaster Recovery Capabilities
Backing up your laboratory data and resource information to the cloud is the first step in creating a robust business continuity and disaster recovery strategy. Your LIMS provider should be able to offer uptime guarantees as well as share information with you regarding the redundancy of backups and where your information is being stored. The security levels for any data centers are also a consideration for your team and you should ensure that your LIMS provider is able to provide the level of access to support personnel and quick response times in the event of an urgent need, too.
3. Navigate Complex Regulatory Environment
It is increasingly difficult to maintain the data integrity and validation required by regulatory authorities, particularly as expectations continue to rise. Without the automation involved with a sophisticated cloud-based LIMS, your laboratory team may struggle to consistently comply with reporting standards unless they are automated and built into your system processes. Any LIMS that you select should be flexible and extensible enough to support evolving requirements, creating a stringent approach to navigating complex regulatory environments.
4. Lessen or Eliminate Audit Failures
Audits can be a painful fact of life for laboratories, and failures can be expensive and time-consuming to resolve. With an active and well-configured LIMS in place, you lessen or eliminate these audit failures by showing that your team is following even the most complex procedures through automation and process control. If you do fail an audit, leveraging your LIMS to bring processes back into alignment can help you overcome these challenges quickly and validate your approach to the resolution.
5. Balance Workloads More Effectively
If you're still managing workloads through a batch of tracking boards on a wall or through Excel spreadsheets, it's good to know that there's a much more effective option available in your LIMS. It's extremely difficult to provide transparent information to a broad group when you're managing on a local micro-level.
When you employ a LIMS solution, built-in dashboards can improve the oversight into the status of current tests, resources that are assigned and available, review status and more. This allows you to be more effective at balancing workloads throughout your laboratory, with minute-by-minute ability to see testing capacity and throughput at a glance.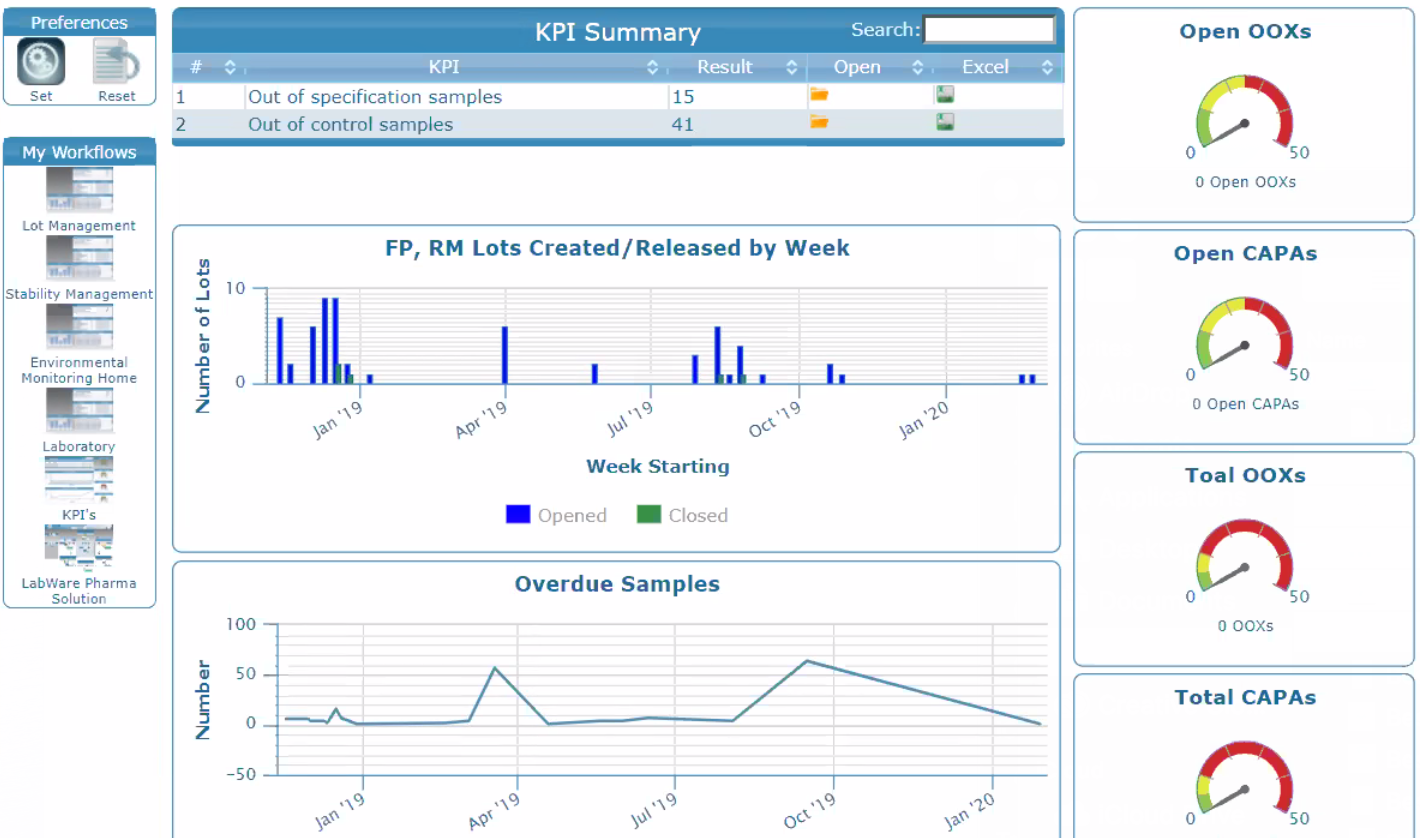 6. Enhance Workflow and Throughput
There is no specific size of laboratories that can benefit from a LIMS. Any laboratory manager looking for ways to improve quality, compliance and efficiency while boosting the visibility into their entire workflow will appreciate the added value that a SaaS LIMS brings to the laboratory. Stakeholders will have improved decision-making capabilities with immediate access to actionable metrics that can be shared both inside and outside the organization.
7. Standardize Laboratory Operations
Consistency is one of the hallmarks of solid laboratory operations, and that comes most efficiently from standardized operations. Human errors inherent in manual processes are inefficient, making it difficult to scale, share or report on your results. Creating dependable processes and putting them together into a trusted workflow reduces the stress and overhead required to perform the daily tasks and activities that are required to deliver results.
Compliance requirements often center around ensuring your processes are fully validated within your user environment, making consistency of operations an extremely important aspect of any LIMS. Creating standardized and automated solutions helps reduce manual effort, resulting in lowered costs and more efficient operations. Using a LIMS solution allows you to track data trends across geographic barriers, reducing limitations on analysis options and improving interpretation.
8. Consistently Track KPIs
If you are frustrated with the time required to wait around for results in your reporting, an updated SaaS LIMS offers unique value for your team. Keeping track of the most important KPIs (Key Performance Indicators) and defining complex metric reports becomes more straightforward when your resource allocation and results are stored in a central location. The simple task of running reports can happen more quickly than you expected, with automated workflows, dashboards and other options that will help ensure that you are keeping track of the most important KPIs to expedite getting results within your laboratory.
Consistent KPIs allow a lab's performance to be measured in real-time, providing a comprehensive overview that provides senior management with a solid basis for decisions. For internal reporting, you are able to configure your SaaS LIMS to define visual dashboards with the information needed to make quick decisions. The ability to share your KPIs with external sources can be a significant selling point for your lab services, too.
Configuring a LIMS system to your unique needs shouldn't be a challenge. When you work with the professionals at LabWare, you can be confident that you are gaining access to a fully-validated LIMS system that ensures accurate results, efficient throughput and exceptional customer satisfaction ratings. With more than 30 years in business, LabWare SaaS LIMS allows for rapid deployment and delivers ease of use with pre-built workflows, reports and instrument integrations.