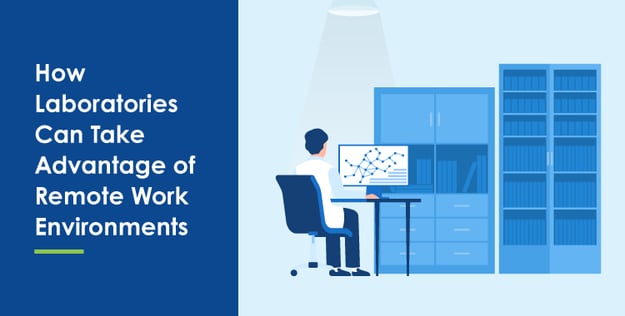 Dealing with a global pandemic such as COVID-19 has forced laboratories to evaluate how to safely and efficiently conduct business. Whether your laboratory is faced with a widespread global event, an on-site emergency that shuts down your physical location, or you simply want to modernize your business, implementing a remote work plan is a must-have for your lab! When your staff are able to take advantage of remote capabilities, your laboratory can maintain its level of output and efficiency under challenging circumstances. Preparing and running samples requires lab equipment, but most QA/QC review processes can be fully completed by staff from an off-site location, allowing you to keep some of your staff at home while remaining fully operational.
Benefits of Using Remote Lab Work
With a cloud-based LIMS system hosting samples and reporting data, laboratories reduce risk, create opportunities for the business, and offer flexibility for the employees. The ability to access LIMS data from anywhere is important for three reasons:
Utilize multiple locations for work
Remote work can entail having your laboratory processes occur in multiple locations. With scientists working in different geographical locations, your laboratory can expand its working hours around the clock. For example, labs have taken advantage of moving experiment review into centralized teams that may not be in the same location as the scientists. Staff located in the United States can review experiments conducted in the United Kingdom to minimize the data turnaround time for critical activities such as responses to regulatory agencies.
Staff that work from various locations can also open up avenues for recruiting. Your organization is not limited by geography to attract top-tier talent. Employees that work remotely full-time are reported to be 22 percent happier in their role and felt they had a better work-life balance, were more productive, and less stressed. In addition, remote staff can be a cost-effective method to reduce infrastructure costs by not requiring a large physical space if many of your staff do not need to come into an actual lab.
Your laboratory can choose to use agile resource models that contract work based on demand. When there is a large amount of experiment reviews to conduct, you can look to contract staff instead of hiring full-time employees, with the option to bring them into the company as needed.
Utilize staff to work from home to conduct processes
Many laboratories may be surprised to hear that the majority of data-orientated processes can be conducted from home. If your lab information management system is cloud-hosted, lab data is stored on a secure server and accessible from any device with an Internet connection. Access to this data makes it easy for remote workers to handle a number of lab processes:
Complete experiment write-ups
Release batches
Create stability programs
View lab data and generate reports
Conduct experiment or stability time point reviews
Answer data queries
View, trend, and analyze product data
Generate data for regulatory dossiers
The ability to access data on-demand can make it easier for staff to answer customer questions quickly without being tied to a certain location to complete the work.
Utilize mobile LIMS applications to conduct field work
If your LIMS solution has a mobile application, field work can be conducted on-site without a physical lab. Whether dealing with testing samples in the field, or performing environmental monitoring, a mobile LIMS application can enable rapid reliable sampling, testing and results.
In the wake of COVID-19, LabWare has helped multiple organizations implement testing capabilities. Some labs are taking advantage of remote processes by using LabWare Mobile. Lab testers have access to their existing LabWare with 500+ server-based commands, can utilize the mobile device camera for barcode scanning, work with GPS and location services, among other features.
In Florida, the Florida Department of Health (DOH), whose laboratories already use LabWare LIMS, worked with LabWare to develop a system to advance its testing processes. The need for expansive testing of COVID-19 is usually supported by a significant load of paperwork, leaving vulnerabilities for transcription errors, bottlenecks for sample processing, and data tracking.
To combat the problem, the DOH labs have now downloaded LabWare Mobile onto Apple iPads, connected the devices to a mobile hotspot, and communicate real-time with a cloud-based, HIPAA-compliant server that runs the LIMS. Testers can now capture patient data and responses with the iPads and transmit all the data collected within minutes to the system, making it easy for the samples to be scanned and tested once they arrive at the laboratory.
Consequences of Not Embracing Remote Lab Work
Regardless of whether your laboratory is dealing with an external global pandemic or an internal on-site emergency, without cloud-hosted access to lab data, your lab can suffer some serious consequences in productivity and efficiency.
If you're unable to perform on-site lab work, the inability to analyze data and generate reports off-site means that your lab is effectively shut down. Smaller labs that rely on paper documentation have felt the impact of their failure to adopt LIMS solutions.
Lack of access to data can also hinder your lab when your employees are sick. When your employees feel pressure to go into the lab when they're feeling ill, it can create a rippling effect by spreading illness to other coworkers, which makes the lab less productive than if that employee had stayed home to fight their illness, performing what work they can.
How to Ensure Success with a Remote Lab Environment
Whether working with a multi-location laboratory, utilizing remote workers, or implementing mobile applications to conduct field work, it's important to understand that a remote lab environment differs from a physical lab. Lab managers must successfully build a culture that supports remote work to result in increased productivity and collaboration.
From an infrastructure standpoint, your remote staff must have reliable and secure access to the lab data that they access every day. This mostly means having robust, high-speed Internet connectivity, allowing staff to work efficiently without interruption. Your system must also be secure, with proper protocols to protect endpoints and devices, since your staff may well be using their personal devices.
Although you may not be able to physically see your employees working, it's still important to develop a working environment that encourages a team atmosphere. It's impossible to completely remove the human context in managing people, so solid professional relationships are still important to develop and maintain, regardless of their working location.
When your lab staff feel that they are part of a team, they're more likely to be motivated to stay on task, making them more cooperative instead of competitive over their work. It can be easy to assume that your remote staff are happy with their work if you rarely hear from them, but it may actually lead to your staff feeling shunned or isolated in their remote positions. So it should be a priority to bring together your remote workers and ensure they're part of the team. Best practices for keeping remote workers engaged include:
Meeting and checking in regularly with team members
Utilizing video conferencing tools to provide a sense of familiarity among team members rather than just using emails or phone calls
Encourage casual conversations, not just "shop talk," to build personal relationships
Be available to answer questions during your remote employees' working hours
Don't rely solely on dashboards and data to manage your team, especially if they are remote. Being intentional about your team building is even more important when you can't manage your lab staff face-to-face.
There are multiple benefits to embracing remote working capabilities for your laboratory. Whether you take advantage of remote data reviews, leverage staff in multiple locations, or use a hybrid of on-site and mobile field work, using an agile LIMS solution becomes a critical component of keeping your laboratory efficient and running smoothly.