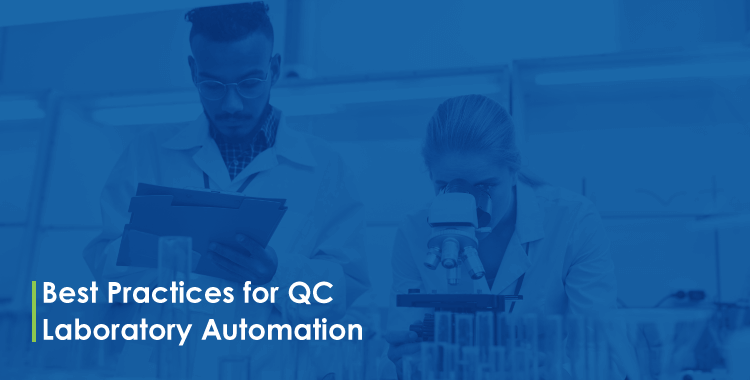 Laboratory automation for quality control (QC) teams helps elevate performance by saving time and effort. The laboratory enjoys better efficiency, with less re-testing, less repeated work, and faster reviews of processes. With more efficiency, more consistency—intrinsic to automation—and less human effort required for repetitive processes, there is improved accuracy and quality to be noted in laboratory results.
QC laboratory automation also delivers detailed process monitoring. It helps enforce standards and leaves a paper trail, allowing for fewer investigations and saving the laboratory both time and money. Automation of processes and data collection means that it is easier to set metrics and use key performance indicators (KPIs) to measure their delivery, which in turns helps identify opportunities for process improvement.
These benefits can be maximized by understanding the implementation process, from the process itself to the management of the process by the QC lab manager.
Keys to QC Laboratory Automation
In order to achieve successful QC laboratory automation, you will need to prepare your lab for automation and select a LIMS that is capable of automation.
First, you need to have a deep comprehension of your laboratory workflows. This requires understanding of key aspects of the laboratories process, how all the different team members are involved in generating the data, as well as the different pathways that the data takes once it is generated. From that initial understanding, you can determine where it makes sense in your laboratory to add in automation to improve compliance or add control.
Keep in mind: Just because you can insert automation doesn't necessarily mean you should. You need to know what processes would benefit from being enforced, measured, corrected, or checked against a certain standard. These processes include times that require manual checks to make sure that the proper attributes have been entered. It is only through a strong understanding of these individual lab processes in order to know exactly where automation can actually help.
A fully configurable LIMS should be able to adapt to the work processes actually followed in the lab. A LIMS can help place controls in spots where there have been issues in the past, addressing quality issues where they arise, and so forth. For example, the LIMS can launch investigations once certain thresholds are crossed, or mandate investigations before something is signed off.
Laboratories benefit from implementing a LIMS that is adaptable to automation. Result and metadata auditing can be automated to ensure compliance around electronic data in a way that comprehensively captures all aspects of changing records, both in terms of the change itself and why they happen. Whether it's an out-of-the-box solution (SaaS) to configurable (PaaS or self-hosted), options exist to support automation and replace manual processes.
QC Processes That Can Benefit From Automation
It can be helpful to keep in mind the specific laboratory automation processes that a LIMS can help with along every step of the laboratory sample and result journey.
Automation starts with data entry. A LIMS can automatically log samples, perform tests or import results and attach them to samples or other specified locations. Specifications can be checked during result entry both to validate the data and to ensure that they fall within approved tolerances, regardless of whether it is performed manually or automatically. Investigations may be launched automatically to chase down the sources of poor or inadequate results.
Even the data entry process itself can have automatic steps added to help the user do a better job. Automated promptings ensure users record the right data as they work through data entry. If any changes are made, automated GMP compliance can log the changes in great detail as well as account for the reasons behind the changes.
Automation also allows for environmental monitoring of samples; it ensures that all samples are logged, and that samples are retrieved following a schedule that ensures facilities are being consistently monitored. Through automated prompts, samples are automatically logged into the system indicating they are ready to be sampled. From there, the system automatically notifies the users regarding the required testing that needs to be done.
Sample stability can also be automatically monitored. The key to effective sample stability monitoring is the ability to detect when changes occur (for more acute changes) while tracking and storing data on more subtle trends over time. QC automation in a LIMS platform automatically tells you when to pull samples from particular chambers, what tests need to be performed on samples, when the tests need to be performed, and where samples need to be directed for testing.
As data is entered into the LIMS, it is automatically checked against stability specifications both so that deviations can be flagged as well as so that trends over time can be detected. Ultimately, by grouping data together, you can generate and provide evidence of the shelf life of the laboratory's products.
The Role of a Manager in QC Laboratory Automation
The manager is the ultimate driver of QC laboratory automation, since their role gives them a bird's eye view of laboratory processes while also authorizing the need to intervene if required. Successful QC laboratory automation will always involve a hands-on approach from the lab manager, who starts out by ensuring both that the correct things are being measured in order to detect performance quality trends as well as to understand where quality can be approved. The data tracked via automation should be sufficient to state for certain that laboratory quality is under control.
Given their high engagement with the LIMS, it is the manager's duty to ensure that the correct LIMS is selected and that the chosen LIMS is correctly implemented to claim its place as a quality tool. The manager needs to understand any adjustments needed by the LIMS in order to reduce errors.
As the lab manager assesses overall process improvements, they must consider the ability of the LIMS system to automate as well as the circumstances under which manual processes need to exist — and how these two situations may overlap or even interact. The most rigorous process with the best quality and efficiency outcomes is achieved through a marriage of manual process and LIMS automation in order to optimally implement QC laboratory automation; this approach is particularly important to avoid heavy customization or inefficient manual interactions.
The lab manager's unique perspective equips them to redesign processes with people, instruments, and with LIMS capabilities in mind, they can optimize for all three of these elements so that every lab sample is reviewed and checked for quality, and so that set quality standards are enforced across every sample that passes through the lab.
With clarity on the standards in place and knowledge of the samples, processes, instruments, and team members, the lab manager can configure the LIMS for optimal QC laboratory automation that saves time and resources, intervenes prior to human error, and enforces top quality performance from the laboratory's sample processing. Repeat testing of specific data points can be performed regularly and tracked in higher detail than if a team member had to measure and input manually, which in turn creates top-tier testing.
QC laboratory automation can be implemented with ease using the right LIMS solution—one that is configurable and aligned with your laboratory's goals—ensuring premium-quality product and compliance-ready processes.