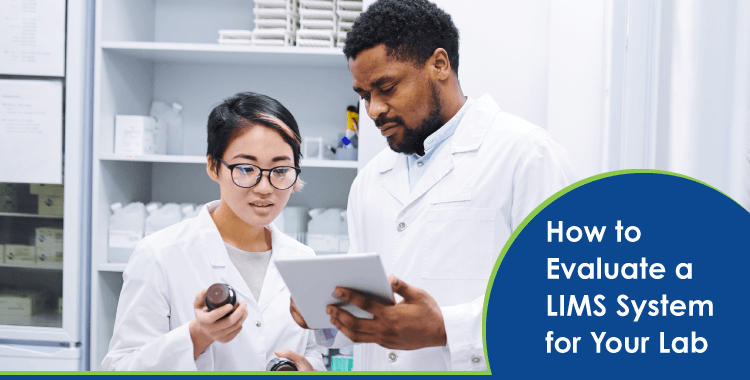 Labs using manual or older systems might be putting their workflows and compliance costs under undue stress. Consider if your current system isn't saving you money and time -- or perhaps, actually increasing your expenses. If it is costing you money and time, this presents an opportunity to find an updated lab management system software that can streamline processes and track data for increased efficiencies.
Before considering if it's time to update your systems, here's what you need to know to conduct a needs analysis of your current workflow and systems.
Analysis of Your Lab's Current Workflow, Systems and Needs
When evaluating a laboratory information system (LIMS) for your lab, a key consideration is to discover what current processes are causing a barrier to meeting regulatory standards and where you need to create greater efficiencies that are costing you time and money. Compliance is not always straightforward; if you fail a laboratory audit, it may mean that your internal systems for training and compliance need improvement.
Processing of Samples
The central reason to implement and use a LIMS is to log, track, record, and report on samples and scientific data in a structured, consistent manner ensuring a reliable chain of custody.
The processing of samples must produce accurate results every time. Any samples required to be tested, need to comply with an established schedule ensuring both the required tests are carried out, and correct testing is performed on a consistent basis.
Adopting a LIMS solution include folders and visual workflows that have built-in functionality to select appropriate samples and results to chart and identify trends, including control charting and stability trending.
Laboratory Operations
A good laboratory manager should look for ways to improve quality, efficiency, and compliance.
Physical space and budget spend are always under scrutiny in a laboratory setting requiring lab operations to run efficiently and effectively. Any manual processes are at risk of human error and make it difficult to scale, share, or report on your results with any degree of accuracy and consistency.
Any options that utilize automation gives you control and flexibility to deliver quality outcomes. A major benefit of using a LIMS solution is process automation reducing the risk of human error.
Data Reporting
Data reporting is equally important in understanding how efficient your workflows are and to reveal if anything is undermining the quality of products, systems, and processes. It's important your solution meets the challenging regulatory environment in your industry keeping the integrity of the data.
Lab management system software improves data reporting as it makes it easy to report on all activities. A LIMS ensures all data is stored and processed consistently through an automated process, giving you greater transparency and accuracy.
You can use data to uncover your immediate needs and understand the context of that analysis. For instance, if you are doing an instrument calibration, the data will tell you if the calibration falls into an acceptable range and passes specifications. The data will also highlight if that instrument is fit for use, if not it may be time to source an instrument that is.
If you were doing an impurity test on a sample that just came in, you need to know what that looks like compared to a sample of another type either by making a comparison with previous batches that were manufactured or identifying previous time points in the stability program. This allows you to make a scientific judgment on whether the impurity is growing/changing. Once you have produced the data, you can take that information to the next level of assessment by analyzing the data in the context of a bigger picture.
Without a LIMS, there is extensive room for error when it comes to sampling and data collection and even the maintenance of a chain of custody. Manual documentation can rapidly become cumbersome and error-prone, particularly as the number of samples being tested together grows, putting a strain on a testing environment with extensive controls and significant analysis replication.
When you take data from within the system and combine it with data from other sources, the LIMS helps you to examine the impact on your product, processes, or various changes. By drilling into any changes, it takes you from an information layer to building knowledge on how to make a better product. Automation is also key to reproducibly producing accurate certificate of analysis and reports, such as the generation of stability tables.
Does your LIMS System Support the Functions You Need?
Because of the automated workflows and automatic assignment of specification tests, LIMS systems provide built-in quality control and assurance measures. Relying on human input means a propensity for human error. Automating workflows eliminates this concern because workflows are defined within LIMS itself. This means all necessary tracking is completed to promote the efficiency of workflows and maintain consistency.
When a sample comes in, it gets logged into the LIMS software system and in order to release the batch, the system automatically identifies what tests it needs to perform. It also knows the pass and fail criteria and when it generates a report, it lets you know if it passed or failed. If it fails, the system automatically launches an investigation. With that level of control, it allows you to take the appropriate action immediately based on the results much quicker than with a manual process.
The results are automatically assessed against the specifications including environmental monitoring and stability testing as well as taking into account the certificate of analysis for Batch Release.
You might think you need to develop a LIMS solution that is customized to your own specific requirements. If you write your own requirements the ensuing products will bend to meet them, which may not be the same or as good as an out of the box solution. This approach is more expensive, not necessarily better. Cost is also not the same as price, especially when you add in the additional costs for ongoing maintenance and support with customized solutions.
Who Will be Using the LIMS and What Will They Use it For?
Laboratory Manager
The laboratory manager is responsible for all workflows, work assignments, and workload management plus the monitoring of KPIs and data reporting. LIMS provides the laboratory manager with information highlighting where any problems are at a macro level. The system provides them with critical information providing them with an understanding of throughputs and workloads. The monitoring of KPIs reassures that the laboratory manager and other stakeholders address any compliance issues in a timely manner.
Quality Manager
The Quality Manager will be using the LIMS, whether it's a dedicated QA/QC role or just the responsible person in the lab. They are the person that would normally release the batch and the last person to sign off on the Certificate of Analysis.
LIMS gives high visibility of any samples, tests, or results that have compliance issues. With higher-visibility, a LIMS system makes it easy to review and put in place actionable steps facilitating the efficient release of batches. Typically the QA will be given the Certificate of Analysis or the sample/lot reference for the batch about to be released enabling them to conduct an assessment ensuring it passes all the quality standards.
Using robust lab management system software means they don't have to carry out any cross-referencing, they only have to look at what is automated. The system will automatically flag things like a change by a user to a value that could impact a result. This would automatically be flagged on the sample that there is an associated audit where they can drill down and discover why it was changed. This makes it easier for the Quality Manager to release batches quickly with the comfort of knowing the quality standards specified have been reached.
Scientists/Analysts
The scientist/analyst wants to know what work needs to be done and what work has been assigned to them. They are going to use the system to document performing the tests and complete the initial assessment of the sample. The system will tell them if it passed or failed according to the specifications related to that sample. If it is a stability study, the results will tell them how it's been trending over time. They will complete the initial assessment of the results and use the system to assess performance by putting the results in context by looking at the data from previous batches.
Who Will be Involved in the Implementation?
Those who will be involved in the implementation depends on the solution. For instance, if you are implementing a SaaS system, all you need are laboratory personnel because you are merely training and deploying and loading some metadata. You will want a Laboratory Manager and Data Administrator to get the information needed to be loaded into the system for your individual company needs.
If you are going down the configuration route, it depends if you are doing an on-site infrastructure or a hosted infrastructure route. If you are going down an onsite infrastructure route you will need subject matter specialists from each area plus an overall business lead,
IT leads and specialists on hardware, software, and networking sides - all infrastructure which can be very costly.
Research and Shortlist Vendors
When you are starting your research process you can go online and look at software comparison sites such as G2, Capterra, and TechValidate.
It's critical you look for a company with a long history of reliability and experience implementing in your specific environment. You need a company that is stable because you want your data to be safe. You need to consider the scalability of a system because you don't need the same system for a lab of five people versus a lab of 1,000 spread across 3 different countries.
Contact Vendors for Demos
The next step is to schedule various providers to provide you with a demo of their software. Prior to this, highlight the functions that you want to have supported and assess out of the box functionality to meet those functions. If those functions don't meet your expectations, then discuss what you would need to close the gap, which may take a second demo. It's all about cost reduction - don't immediately assume you'll need to customize it to your vision of a system.
Evaluation Process
The next step is to compare each provider against the criteria lab managers should use when evaluating a LIMS solution.
In addition to functionality assessments, criteria should include comparing:
The costs of customization vs an out of the box solution
Implementation time frames and ongoing support
Features
When evaluating a LIMS vendor, compare features such as an onsite installation versus a cloud-based system and if the software is fit for purpose. Consider how efficient workflows are and the functionality of the dashboard. Sample management is a key consideration as is the reporting of data and visualization.
Pricing
A trusted LIMS provider helps to implement a quality management system underpinning the implementation of quality improvements.
When comparing pricing, consider the license fees versus a subscription-based fee keeping in mind with subscriptions, future updates may be automatically included.
A subscription-based LIMS system avoids burdensome startup costs and time while delivering industry-leading functionality.
Support
In addition, to set up costs consider what ongoing support is needed. You need to ensure a LIMS partner can reliably see you through the implementation process and provide the level of support you need post-launch.
Implementation Timeline
There's a big difference in the implementation time with a tailored configuration versus an out-of-the-box solution. Consider any future updates that are included in the package which are supported by the vendor as opposed to internal IT projects.
Vendor Reputation
Working with a LIMS vendor with extensive industry experience can reduce the amount of time spent on designing, implementing, and validating your setup. Experienced vendors will have worked with similar laboratory setups and can recommend best practices as you work with them. It's valuable to ask vendors for any relevant certifications that support their years in the industry.
When you adopt a fully-functional cloud-based LIMS, you are assured your metadata, workflows, samples, results, and instruments are completely organized at all times giving you increased visibility of all laboratory processes.
Since LIMS functionality centers around the need to track samples, collect and report data, adopting LIMS platform provides you with a flexible and extensive solution to presenting data in a clear and cohesive manner in a variety of different contexts.
Finding the right LIMS software solution for your laboratory helps improve the consistency of outcomes, significantly reduces overhead costs, and enhances your reporting options.