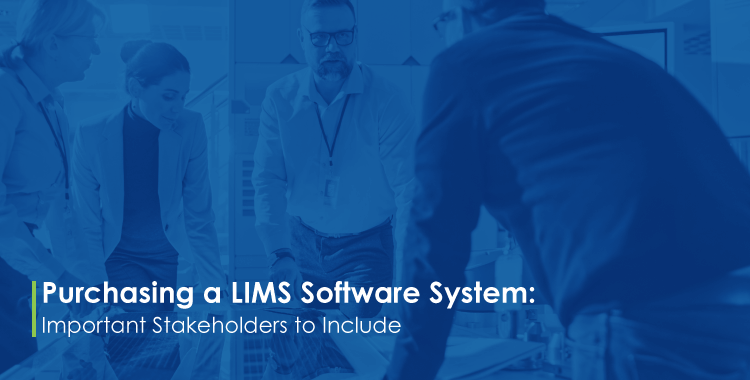 Integrating technology into your laboratory is never a one-person decision. Key stakeholders have different perspectives in terms of what they need from technology depending on their individual needs. Even within a small laboratory, there are many people impacted by the implementation of a laboratory management system (LIMS).
Omitting any one of these key stakeholders from the purchasing process will lead to conflict, confusion, and internal battles that can easily be avoided ensuring the purchase and implementation of technology that is right for you.
Stakeholders to Include When Purchasing LIMS
When considering who needs to be involved in the decision to implement a LIMS solution, it's important to acknowledge different perspectives from all levels right across the organization. You need to include those who will use the system, as well as those who provide the budget, IT, and upper management. Without including all relevant stakeholders, you could be met with resistance, making it critically important to identify who should be involved in the purchasing process.
Senior/Executive Management
There is no point going down the purchasing route if you don't establish the need and get the authority to move forward upfront. The process usually starts by identifying a need for a LIMS to either improve efficiency or as a result of feedback from those in the front line. Upper management will make the decision on how to address these problems and challenges with the view of resolving any issues directly to do with ongoing compliance and/or improving efficiencies.

If upper management is open to using an off-the-shelf product, purchasing a LIMS solution will help them address these issues quickly and directly. The outcome of installing LIMS software immediately identifies where there is room for improvement concerning efficiencies, compliance, and control—signifying that the benefits gained will completely outweigh the cost of purchase and implementation.
Budget Holders
It is always advised that senior and executive management include budget holders in these preliminary discussions. Their input is especially important to get their buy-in up front so you don't meet with resistance further down the track. Budget holders may be separate from senior and executive management, therefore it is critical to ensure there is financing available for a LIMS solution once all stakeholders have been consulted. There's no point going down the purchasing route to be blocked by budget holders at the last minute.

A key question budget holders will want answered is the comparison of making the LIMS an operational expense or a capital expense. They will analyze the difference of paying a monthly subscription fee (operational expense) for a service-based system or paying a large upfront cost knowing for more control and choices around custom configuration (capital expense). Predictability is important for those in budgeting where it is highly likely they will favor the known costs of a subscription model as opposed to taking on the risk of configuration, validation, and the ongoing maintenance of hardware and software. Knowing in advance the monthly fixed costs with a subscription service is always more attractive compared to unknown ongoing maintenance costs after the initial capital outlay.
Laboratory Manager
It is highly important in the evaluation process to involve the laboratory manager, as they have a vested interest in this decision because a LIMS software solution will control the day-to-day operations in their laboratory. LIMS provides the laboratory manager with data reporting and KPIs, work assignments, and workload management, making it easier to manage and monitor laboratory operations.

It is important in making this decision that the desire for monitoring of KPIs and controls do not come at the expense of efficiency in the laboratory. Implementing any new processes at the bench level should make the scientists' jobs easier, not harder. Ideally, KPIs and controls should be based on data naturally captured in the LIMS during the laboratory processes rather than forcing scientists to enter additional data or perform additional steps just to generate a specific metric. That's why it's important to work with a vendor that intricately understands how a modern laboratory operates and each member's responsibilities.

Because most LIMS solutions collect large amounts of data around sample movement tracking and control, the laboratory manager is often targeted in the vendor evaluation process. However, they should not be involved in isolation without the buy-in and feedback from other end users who use the LIMS every day. They also need the support of budget holders and upper management if they decide to go with LIMS.

It's important to understand that the needs of a remote lab environment differ from a physical lab. Remote environments can involve having laboratory processes occur in multiple locations. With scientists working in different geographical locations, a laboratory manager needs to ensure a LIMS solution can also cater to a multi-location laboratory, utilizing remote workers, or implementing mobile applications to conduct fieldwork. Laboratory managers also support remote work making a cloud-based solution a preferred option for the added security.
IT Manager
Any software decisions should also involve your IT manager or department; sometimes the system selection is driven by an IT manager that represents the needs of the senior management and laboratory managers. The IT manager will have target specifications for any systems, as they will be required to support the implementation process and provide ongoing support if required. From their perspective, they are more interested in controlling maintenance costs, whether data is kept on-premise or in the cloud. Vitally important to their department is the ongoing security aspects of the system and data.

The ongoing internal costs of IT for any software solutions are often overlooked from a business operational perspective but are a key component in the decision-making process. The overall cost to the organization includes the cost of servers, personnel to maintain the servers and applications, the cost of security, and the cost of network maintenance. These factors are equally important when making the decision of choosing a subscription service that is managed in the cloud versus a self-hosted deployment.

With a cloud-based LIMS system, the LIMS can track samples and store and report data from the cloud, which reduces risk, creates opportunities for the business, and offers flexibility for the employees.
Quality Assurance/Quality Control Manager
The implementation of a LIMS software solution affects ongoing compliance within an organization, therefore, making it critical to also involve the quality control manager in the decision-making process.

Their concerns involve the accuracy and efficiency of batch release from a quality perspective as well as the tracking and trending of investigations associated with unexpected results. Quality assurance team members will want to know that the system implemented has been appropriately tested, validated, and contains functions to easily highlight atypical data and monitor action to remediate.
Scientists
Scientists also play an important role in the decision-making process as samplers need a system that is active at the point that they are taking the sample, which also provides them with easy ways to label, track, and submit samples for testing.

Analysts are bench-level scientists who will use a LIMS solution to process samples and their needs should be considered in deciding if a LIMS solution meets the lab's needs. For these people LIMS is their workhorses, using the system on a daily basis to perform their jobs. Because of this, ensure that experienced scientists are brought in to assess a LIMS solution to see if it will meet their needs of day-to-day operations.
Stability Scientists
Stability scientists administer stability study samples; inventory incoming project samples; set up stability studies, label samples, place them into chambers; verify sample placement, labeling, and container counts. These lab members understand the processes that need to be supported in the LIMS workflow and should also be involved as influencers in the LIMS purchasing decision.
Environmental Monitoring Manager/Microbiologists
Environmental monitoring managers oversee the execution of environmental monitoring programs, and batch level environmental monitoring protocols. This role is involved in verifying that the right software technology is in place to adequately provide oversight, monitoring, and compliance in all required areas. These people are relied upon to advise management in these areas. They understand the processes that need to be built into the LIMS workflows and should be included as likely influencers in the LIMS purchase.
System Administrators
A System Administrator's primary function is to manage the master data in the system, add user accounts, or put new instruments on the system. Depending on the size of the organization, this may be a standalone person, a scientist who has a side role, someone in systems/IT who steps in to perform systems admin tasks, or it can be done by someone at the LIMS provider. Depending on the level of knowledge of the system admin, they may or may not be a key stakeholder in the decision-making process.
Lab Customers/Data Consumers
It's important to understand the requirements of your customers, and what they expect from your lab so that you can meet their needs with your LIMS. You want to make sure the appropriate results are presented to your customers. The LIMS chosen should support your customers' data needs along with secondary data consumption needs.
Moving Forward with LIMS Purchase
Now that you have a greater understanding of who needs to be involved in the purchasing process for a LIMS software solution, it's recommended you meet with your relevant stakeholders in the beginning to gain a more in-depth understanding of their specific needs for LIMS software. Once you gather the necessary input from each stakeholder group, make their recommendations known to all other stakeholders soliciting their feedback as well.
Once you have identified the key requirements, prepare a request for a proposal for LIMS vendors that includes the specifications of your stakeholder's interests. Knowing you have the support of upper management, and preliminary finance approval, it's time to invite vendors to provide demos of their solutions. You can include your key stakeholders where appropriate in conversations as you continue through the process.
When you have narrowed down solutions, you can invite your lab's key end users to the solution demos, including scientists, quality controllers, environmental monitoring managers, microbiologists, and IT—giving them the opportunity to ask questions during the demo. Then, bring your stakeholders together to compare internal requirements to the out-of-the-box LIMS solution offered, and determine whether the standardized solution will meet the lab's requirements or if the implementation requires further customization.