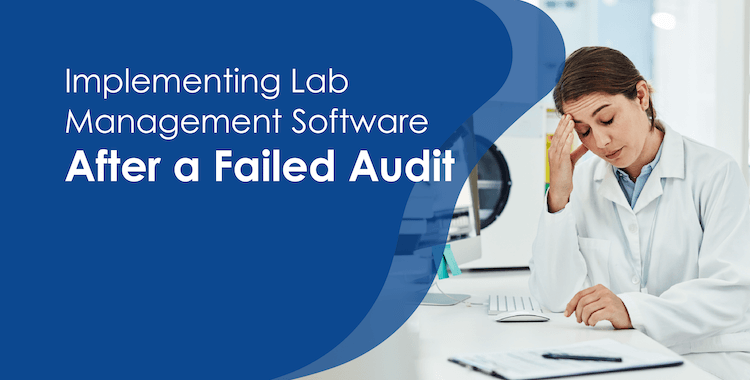 Failing a laboratory audit means that internal systems for training and compliance need improvement, and also likely means that the lab may see more intense scrutiny for the foreseeable future.
Since an effective plan for improvement and its implementation must be assembled as quickly as possible while also maintaining the usual laboratory output, any prescribed changes must be rapidly mapped, automated, validated, and implemented. LIMS software can help resolve this need by providing already proven and validated laboratory workflows.
Common Reasons for Failed Laboratory Audits
Failed laboratory audits are often the result of common errors; the underlying theme behind most of these infractions centers around human error. Some of the most common contributors to failed laboratory audits include:
Chain of custody failures: These involve insufficient sample tracking. Usually, sample handling is involved from laboratory receipt through storage, then through usage. Manual documentation can rapidly become unwieldy, particularly when the number of samples is high.
Insufficient change documentation: Changes made on paper should be documented with a single line strikethrough, accompanied by the initials of the person making the change and the date and reason the change was made. Unfortunately, often in haste, individuals may neglect to do all these things, which results in faulty documentation or in the case of multiple changes the record becomes hard to read.
Failures of GMP and/or GLP: Together, GMP and GLP standards protect the integrity of laboratory practices and products by establishing best practices. Unfortunately, the level of detail to which they apply can make them difficult for individuals to sustain. Failures are often around labelling of samples, standards, solvents, equipment, and the level of accuracy and completeness of documenting the use of these.
Transcription errors: When manually cross-referencing and documenting notes and data, people may misread or mistakenly write or type incorrect information.
Perceived Tampering: Usually unintentional, individuals who lack sufficient training can unknowingly commit fraud when they fail to adhere to procedures. However, ignorance is not an adequate defense for non-compliance.
Whether these errors stem from insufficient training or human error, these infractions can jeopardize the credibility of results or the integrity of products supported by a laboratory. Finding a way to automate enforcement of these guidelines can sustain best practices without adding further to individual burdens.
How Lab Management Software Can Help with a Failed Audit
When compliance is the problem, implementing a fast and reliable solution is the key to success. An pre-configured lab management software product offers a rapid response to audit findings that can rebuild trust with the regulatory body in an appropriate and decisive way.
Not only does lab management software automate guideline enforcement, it also can reduce individual lab members' task loads by removing the need for additional documentation steps. LIMS establishes a decisive chain-of-custody reinforced with automatic updates on sample transfer, transport, and storage. Because the record-keeping is done digitally, it is easier to store a large amount of parameters for each sample.
This guided sample process makes certain that all appropriate steps are followed according to GLP/GMP throughout the processing of samples and their results. These records form a full audit trail that documents every change in relation to the sample, as well as who made the change, when the change was made, how the change was made, what exactly the change entailed, and even why the change was made to begin with.
If sample stability is being tested, a LIMS solution can make sure this protocol is entirely automated. This means that samples are tested according to the established schedule, that all the required tests are carried out, and that the correct tests are performed. Any samples that fail testing are promptly and clearly flagged.
Implementing a trusted lab management software platform is a strong response to the quality improvements flagged during an audit. In fact, auditors are familiar with LIMS and tend to regard them positively, as long as the precise implementation can be accounted for. The more standard an implementation is, the less it is investigated because auditors know that its creation involved extensive development adhering to industry best practices, followed by validation. If the lab's software implementation requires extensive customization, the validation performed by the supplier is no longer applicable and needs to be redone.
It is impossible to completely eliminate human errors from a laboratory. Instead, their occurrence and impact can be minimized by using automation to ensure that changes and procedures are properly documented and followed.
Features to Look for in Lab Management Software
Whether responding to an audit's findings or getting ahead by automating laboratory processes wherever possible, there are three key elements to look for in lab management software:
Ability to implement quickly – Responding to an audit's findings should be done as expeditiously as possible in order to prevent further issues, and so the LIMS of choice should be able to accommodate rapid implementation. Additionally, a speedy implementation implies minimal customization, which leaves platform validation—and best practices—intact.
Standardized templates – Templated systems ensure that the appropriate information is consistently collected over time, and that the data collected is validated.
Digital automation over manual paperwork – The latter is the source of problems ranging from inconsistent data capture through human error. Digital automation, on the other hand, reinforces that data is captured appropriately and consistently, while also making sure that any testing is done completely and at the prescribed times.
Because highly customized solutions lose some of the power behind their process validation, it is a good idea to pick a LIMS that works well off-the-shelf to meet a particular laboratory's needs.
Steps to Implementing Lab Management Software After a Failed Audit
Every strong implementation requires an honest, comprehensive review of a lab's needs and vulnerabilities, followed by a prioritization in addressing them. In many ways, an audit helps simplify this step by flagging the most critical issues present. From there, evaluating a system will depend on selecting and purchasing the system whose out-of-the-box core functionalities best align with the lab's needs. Less customization means a smoother implementation.
Once a system has been selected, there are two common ways in which the "master data"—or laboratory data and required fields–can be populated within the system. The more tedious option involves relying on the user to manually populate all of the data in the system; again, this is very time-consuming, and can introduce human error. The alternative is to have users supply master data to LIMS administrators inside the platform, who then leverage preconfigured templates to easily and rapidly populate required fields.
Next, every lab member should be trained on using the LIMS. This is generally done through self-training guides, where individuals can go at their own pace, and reference materials that relate directly to their day-to-day function.
Validation is a critical step. A SaaS LIMS platform should come fully-validated, and therefore provides administrators with validation packages, the acceptance of which may depend on the laboratory's risk tolerance. For example, a lab producing clinical-grade products for patients will likely have more stringent criteria than a basic research lab. Administrators will have the option either to accept the validation as-is, or to add any further validation to meet specific laboratory requirements.
Some LIMS solutions also offer extensive customization options. Although customization may seem attractive at first, it means the validation must be completely redone for the final implementation. This also means the provided solution is specific to the customer and therefore needs new IT projects to be initiated for each upgrade and change. Often, a better option is to find the LIMS solution that meets laboratory needs as well as possible from the initial system setup and offers built-in upgrades in the subscription to stay up-to-date with regulatory expectations as they change.
Once validation is complete, the implementation is ready to go live. Laboratories can start testing their samples, generating data, and automatically tracking results.
The Logistics Behind Audits
Internal departments or external regulatory groups may perform laboratory audits, and are generally intended to make sure that standard operating procedures are adhered to, along with compliance to industry regulations. They may also be conducted by third-party companies that are hired for independent, objective assessment. Internal audits may be done for a number of reasons that range from safety assessments, to quality control, and even operational efficiency, with some organizations enforcing regular internal audits as a way of staying ahead of potential external audits.
Depending on the extent of violations incurred, an external audit may come with hefty fines or even shut a laboratory down. Usually, a lab is given a designated period of time during which an audit response is expected to correct infractions or provide definitive substantiation that the infraction was erroneous.
The frequency of laboratory audits varies widely. External audit frequency is determined by the industry regulatory group involved, and generally occur less frequently—but potentially have more grave consequences than internal audits.
The auditors and regulatory bodies responsible for performing an audit vary widely as well based on industry. In the pharmaceutical and compounding industries, the FDA, EMA, MHRA and TGA are commonly responsible for regulation surrounding GMP, and perform audits on the makers of medical drugs and devices. There can also be additional local regulatory bodies; for example, in the United States, individual states may have their own local pharmacy boards that oversee compounding pharmacy. The cannabis industry is another example of where states drive the regulation of markets, and with that comes quality control as well as record-keeping requirements.
For all the stress, cost, and inconvenience they may provide, audits are an inherent part of any quality management system or any industry that is subject to regulatory oversight and safety risk. Whether those audits are internal within the lab, done by a quality assurance department within the business or an external body, a strong auditing program helps companies ensure a robust quality management system. Implementing a lab management software can prevent audit failure, or accelerate the process of correction and enhancement to prevent future failures.