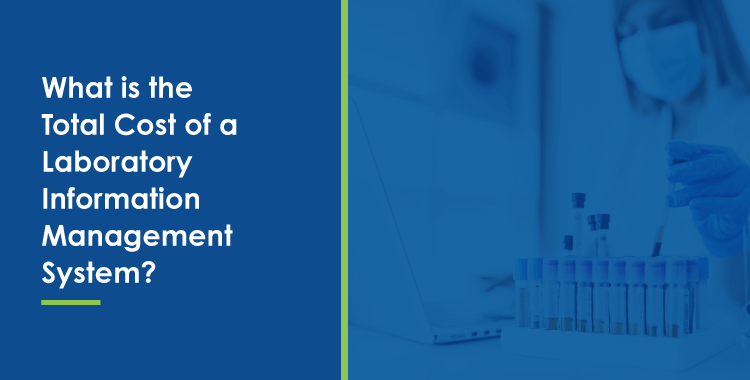 Effective and successful lab managers are first and foremost dedicated to the scientific endeavors of their chosen industry. The prospect of providing innovative and well-researched products and services to the global community is undoubtedly gratifying and honorable.
In today's highly competitive scientific market, it is essential that all deliverables be timely, within regulatory compliance, and within budget. To merge the necessities of scientific rigor, health and safety, and global competition, the choice of your laboratory information management system (LIMS) is critical.
Understanding the total cost of your laboratory information management system can be daunting. We provide factors to consider when choosing a LIMS that meets the scientific objectives of your laboratory environment and is also cost-effective.
The measures of success when analyzing total information management system cost are:
Degree of configurability: How does configurability affect total cost?
Speed of implementation: How quickly can implementation occur?
Capital and operational expenditures: What's the initial expense and what are continued expenses?
​​​​​​​Internal and external processes: How can the lab meet continued internal and external demands while staying within budget?
Compliance: How can audit failures, warning letters and penalties be avoided?


To better understand the cost of a laboratory information management system, there are three LIMS environments to consider:
Self-hosted: The system operates from an on-site centralized location
Platform-as-a-Service (PaaS): Lab services are conducted from a hybrid of a central lab location and a cloud-based environment.
Software as a Service (SaaS): All services operate via a cloud-based environment and are accessible from any location with Internet access.
Self-hosted vs. service platforms vary in total costs because of the nature of each environment setup. The initial license fees for a self-hosted system differs from cloud-based platforms that offer an annual subscription to the service. Major upgrades are usually included in software-as-a-service platforms, and the costs for training and support will be different, too. Using a total cost of ownership calculator to compare these two environments can be valuable.
Factors in the Total Cost of a Laboratory Information Management System
Lab Infrastructure
Self-hosted: Usually in a centralized location.
PaaS and SaaS: Access and sharing of data in multiple locations.
The key to solid lab infrastructure is access. Labs can't run efficiently if there are not enough access points for all employees. Laptops, desktop computers, and tablets all have to be in the proper locations where the work is actually conducted. If staff must walk away from their workstation every 5 minutes, even the best and brightest can easily forget the specifics of the documentation.
Laboratory deployed equipment must also be considered. The location of barcode readers and printers must be conveniently placed. If the lab is working with heavy-duty solvents, solvent-resistant hardware may need to be purchased.
In order to avoid compliance problems and human error, documentation should be completed at the time that the lab work is being executed, with little to no lag time in between tasks. PaaS and SaaS LIMS allow for multiple access points, which helps streamline documentation. An Self-hosted LIMS may work well with a single or centralized laboratory, offering your team ultimate control on its setup.
IT Infrastructure (Hardware)
Self-hosted: Gives the lab total control over infrastructure, and how servers are configured.
PaaS and SaaS: IT needs provided with subscription service. Costs can be relatively manageable and predictable when compared to self-hosted.
A self-hosted arrangement for IT infrastructure gives complete control of the process to the organization. This means that the organization is responsible for the major capital expense of building and configuring servers. In addition to the initial expenses, you will need a dedicated IT team with specific expertise to maintain upgrades, maintenance, and managing system issues.
If you don't have an internal IT team, PaaS and SaaS often include IT management in the subscription, reducing the financial risk of managing your infrastructure needs and allowing your team to spend more focus on the lab's business. PaaS infrastructure is scalable, meaning your lab can reduce or increase server capacity based on the lab's current needs. SaaS systems will scale on usage without the need for active management of the IT infrastructure. For both PaaS and SaaS, backups and recoveries have already been built into the system.
Licensing Models
Self-hosted: Licensing for software typically perpetual.
PaaS: Licensing for software perpetual or subscription.
SaaS: Full subscription.
The decision regarding a perpetual or subscription model is based on how long your organization wants to keep the LIMS running and how important known and predictable costs are. A major factor in this determination is a financial one. Perpetual licensing of an self-hosted arrangement is a capital expenditure, locking you into one cost for the length of the agreement. Although expensive initially, over a long-term agreement, you may realize cost savings.
In PaaS, the software licensing is achieved through either perpetual arrangement or subscription. Infrastructure licensing is generally subscription-based. Customization is possible, but it is paid on an as needed basis.
With a SaaS-based laboratory information management system, all licensing is subscription-based as an operational expenditure. A complete subscription-based service can mean lower total costs if your lab wants a less customized solution and is willing to adopt industry best practice.
Implementation Approach
Self-hosted: Lengthier process towards deployment with more individual customizations.
PaaS: A middle ground between self-hosted and SaaS, with ability for customization.
SaaS: Often the quickest path to implementation with an out-of-the-box, cloud-based solution.
If adopting a customized self-hosted LIMS, your team determines requirements and maps all process flows. The system is configured to your unique specifications, followed by implementation. Keep in mind that it may take a longer time to configure individual customizations, validate them, then deploy the system. The advantage of an self-hosted LIMS is that the system is customized to meet your specific business needs.
PaaS represents a middle ground between self-hosted and SaaS. There are more opportunities for customization without getting overly involved in the complexities of the IT needs, thus allowing a greater focus on the science.
SaaS cloud computing puts a premium importance on industry best practice such as GMP, GLP, and SOC-2. There are very few customizations in a SaaS LIMS, resulting in the lowest cost of all three setup options. Because labs are purchasing SaaS with an out-of-the-box configuration, it offers the fastest route to total implementation and deployment. The reduction in implementation time paves the way to get ROI sooner than either PaaS and self-hosted.
With PaaS, upgrades can still be initialized as needed to meet individual needs. With SaaS, upgrades are included in the cost but are not specific to an individual organization. Unlike self-hosted environments, for PaaS and SaaS, a dedicated internal IT team is not needed to perform upgrades, which keep operating expenses consistent and predictable.
Data Validation
Self-hosted: Significant validation of customized setup necessary.
PaaS: Lower initial validation burden upfront, but requires validation of customizations
SaaS: A fixed product that utilizes industry best practices to avoid extensive validation
Organizations that choose a customized self-hosted LIMS are responsible for validating applications that fit the purpose of the particular lab environment. This is the downside of pursuing individual customizations.
Initial validation overhead is lower with PaaS because the software vendor has already completed validations prior to purchase. But for any customizations, the validations are established from scratch. This can lengthen the time to the implementation.
SaaS dramatically lowers validation burdens. Rather than validating software to assess fitness for purpose, the user is tasked with looking at processes and learning what the software can support.
With SaaS LIMS, customization is minimal, therefore needing very little to no additional validation; your processes are matched to the system, rather than building the system to match your processes. Your laboratory is still responsible for the validation of the system, but you can adopt the validation that your LIMS vendor has conducted as support.
Data Migration
Self-hosted and PaaS: Consider data warehousing as opposed to a full migration of lab data.
SaaS: May be able to migrate stability studies.
Self-hosted and PaaS LIMS have capabilities for data migration. Even so, companies have spent much time and money in unsuccessful attempts. The data that is actually required is often a fraction of what is actually migrated. Therefore we suggest that the user acquire an in-depth understanding of organizational needs.
Many organizations undergo a cost analysis to determine the most appropriate course of action. Rather than executing a blanket migration, one may wish to progressively wind down the usage of the old data; or store it in a data warehouse.
There is generally no data migration for SaaS LIMS. However a user may migrate stability studies or previous data from legacy systems if moving from one software package to another.
Training
Self-hosted and PaaS: With customized solutions, the laboratory team should facilitate training on their own or hire consultants.
SaaS: Sometimes training can be included in your subscription; the process is easier because the work processes are standardized and out-of-the-box.
Training packages may involve facilitation of classroom training sessions, on-demand training, or web-based tutoring. Effective training often requires extensive time and resources. However, if training is short-changed, a poorly trained staff can wreak havoc on a new, expensive LIMS.
We recommend that specific budget for training be included in the total laboratory information management system cost. This will lead to positive outcomes in the laboratory environment and processes.
Post-Implementation Support
Self-hosted, PaaS and SaaS: Involves IT infrastructure support and daily support, can be handled internally or outsourced.
The use of internal administrators is most appropriate when there are a large number of local users in one location. Internal support requires a dedicated team member or team to handle issues quickly and efficiently, but allows your team to control issues and escalate any problems as needed.
A lab manager may wish to consider outsourcing the support team if the lab team is relatively small or if the team is employed in multiple physical locations. If the support is handled by your vendor or another third party, it's important that they have expertise in the LIMS-based system. When outsourcing IT support, remember that any outside party will have access to your data, your company's intellectual property. Therefore, it is critical to be able to trust the knowledge and integrity of your outsourced team.
Laboratory information management system cost analysis can be complex and overwhelming. A solid understanding of different LIMS approaches and their associated advantages and disadvantages is critical to the success of science-sector laboratories. Furthermore, the right choice can streamline your lab processes, which progressively allows researchers, public health specialists, and other science professionals to focus on the industry-specific mission and vision of their organizations.